Traditional Golden Milk: Recipe and History
Looking for an immunity boost? We've got a super simple recipe that people have sworn by for millennia: Golden Milk!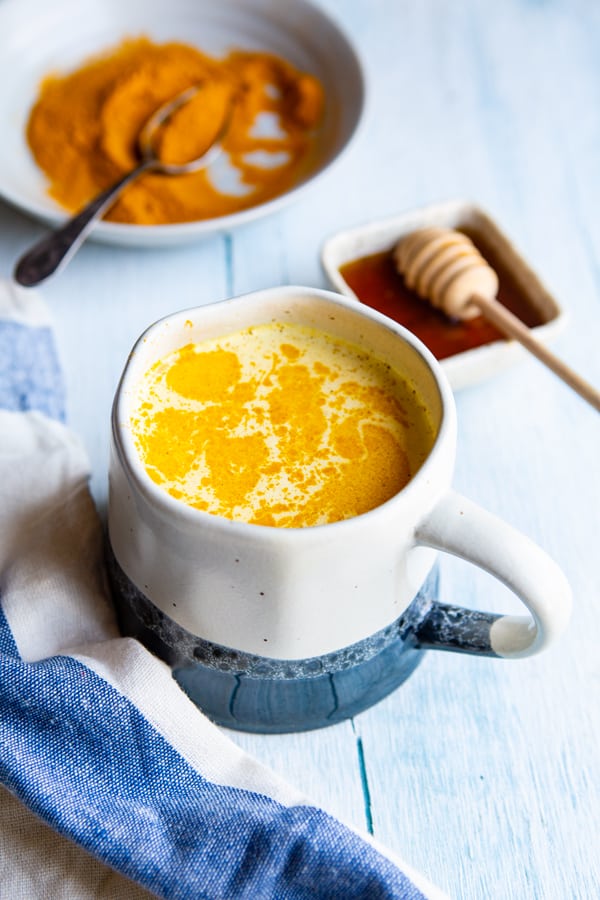 You may have tasted today's topic of discussion in some of your favorite dishes, like our Chicken Coconut Curry with Mango and Veggie Turmeric Melt Naanwich. That's right — we're talking about turmeric. 
This potent gold powder has become somewhat of a fad in popular foodie culture, and there's a good chance you've seen it pop up in many recipes, restaurants, and supplements. Not only does it add delicious flavor to every dish and drink it's in, but it also comes with a whole host of health benefits. 
Let's learn a bit about the history and potential medicinal effects of turmeric, and see how it takes center stage in our traditional Golden Milk recipe! 
Brief History of Turmeric
Turmeric's history stretches back much further than its recent popularity surge in foodie culture.  Turmeric was used medicinally in India almost 4,500 years ago and carried some spiritual significance. 
Beyond medicinal purposes, the Hindu religion views turmeric as sacred and incorporates the spice in marriage ceremonies as well as jewelry like pendants to ward off evil spirits. Additionally, it's been used for many years as a food and fabric dye due to its bright, golden-yellow color.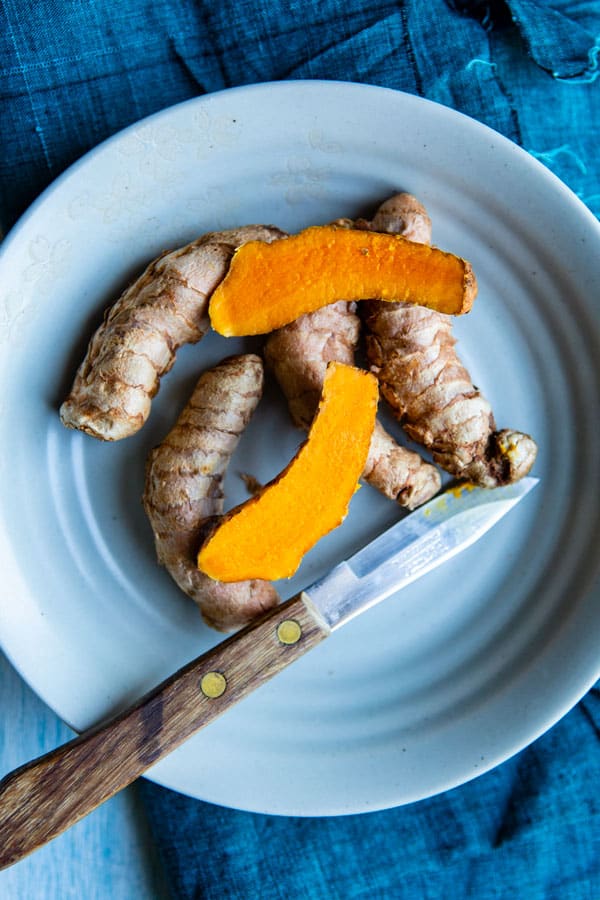 What is Golden Milk? 
Turmeric can be utilized in many different ways, but one of the most popular ways is to turn it into golden milk, also known as haldi doodh! 
Originated in India, haldi doodh is milk infused with turmeric and has been used to aid many ailments, including colds, coughs, inflammation, aches, pains, and restlessness. In Indian culture, it's mom's go-to solution for everything, and a tradition found very comforting.
The best part about golden milk is how easy it is to prep! There's a good chance you already have all the ingredients in your pantry and fridge. Heat your cup of milk, add some turmeric and sugar to taste, and that's all there is to it! Who knew being healthy could be so easy?
Golden Milk Benefits
India has been the largest consumer and exporter of turmeric since ancient times. The turmeric plant is only slightly over two feet tall and grows a flower and an underground stem, also known as a rhizome. Like ginger, the root is ground into the rich gold powder we know as the turmeric spice.
Turmeric has an impressive list of credentials for a healthy body as it has been shown to have a broad spectrum of biological benefits, including: 
Decreased inflammation

Improvements in memory

Natural painkiller

Antioxidant

Potentially reduced risk of heart disease

May prevent cancer

May lessen depression symptoms
Not too shabby for a simple spice, right?

Golden Milk Ingredients
For this turmeric golden milk recipe, you'll need the following essential ingredients:
Milk (whole or plant-based alternatives like soy or almond milk)

Turmeric powder

Honey

Whole cardamom pods
Recipe For Golden Milk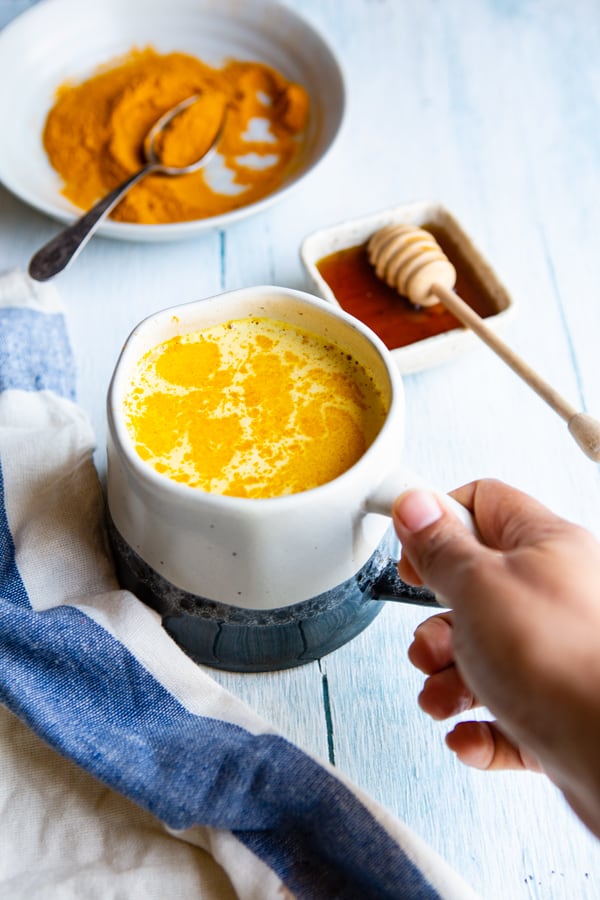 Golden Milk Variations 
If you're lactose-intolerant or vegan, feel free to substitute cow's milk for a plant-based alternative like coconut milk or cashew milk. We do recommend that you stick to higher fat content milk. Why? To increase absorption of curcumin.
Curcumin is one of the most powerful compounds in turmeric. It's linked to many positive health benefits, like reduced inflammation, milder arthritis symptoms, and even lower anxiety levels. However, your body might find it difficult to absorb curcumin on its own. Help your body out by pairing your turmeric with a substance high in fat or compounds like piperine (commonly found in black pepper). 
Not a regular sugar fan? No problem! Use honey or agave for a similar taste. Jaggery, made from the sap of palm trees, can also be used as a substitute for regular sugar. It's made of different types of palm, most commonly date palms or coconut palms.
Whether you're looking to kick that cough or you're in the market for a peaceful night's sleep, golden milk can help get you there. After all, this millennia-old tradition has stuck around for a good reason!
Traditional Golden Milk Recipe
Originating in India, Turmeric Milk or Golden Milk is simply milk infused with turmeric and has been used to aid many ailments, including colds, coughs, inflammation, aches, pains, and restlessness.
Ingredients
4

cups

Milk

high-fat content recommended, so opt for whole milk or a plant-based alternative like coconut milk

1

tbsp

turmeric powder

2-3

tbsp

honey or sweeter of choice

sugar, agave syrup, jaggery powder

2

whole

cardamom pods

optional
Instructions
Bring milk to a rolling boil in a small saucepan.

Stir in turmeric powder. Add cardamom if you like. Cover and allow the mixture to steep for 5 minutes.

Strain into serving mugs or glass. Stir in honey or sweetener of choice.
Notes
If available, fresh turmeric root is more beneficial and should be used in turmeric milk. Simply replace turmeric powder in the recipe with freshly grated turmeric root. Steep and strain before serving hot.
More Indian Drink Recipes: