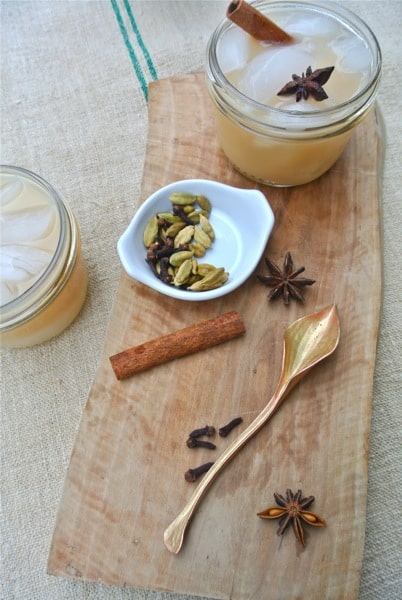 Masala chai is a kicked up version of strong black, usually Assam, tea. There are so many ways to spice the tea and variations depend on region and climate. Ginger and cardamom are often commonly used, along with a combination of any of the following: clove, star anise, cinnamon, nutmeg, coriander, etc. Steamed almond milk or whole milk make for a frothy and rich drink. This time of year, why not ice it down and have some ready for a mid-morning pick-me-up or summer time guests.
To Make 2 to 4 cups, boil 6 cups water and steep 2 to 3 teaspoons black tea, such as Assam. Add whole spices and let steep about 5 minutes; you could steep a little longer but just make sure that the tea doesn't turn bitter. Strain tea leaves and spices. Steam almond or whole milk and add. Chill, if desired.
For other Indian-inspired drinks, check out Mango and Mint Lassi.
Photo copyright Kim Sunée