Indian-Style Grilled Street Corn with Cilantro and Lime
This grilled street corn recipe is a take on classic Mexican street corn. It's made with a blend of Indian spices and topped with cilantro for a pop of fresh flavor.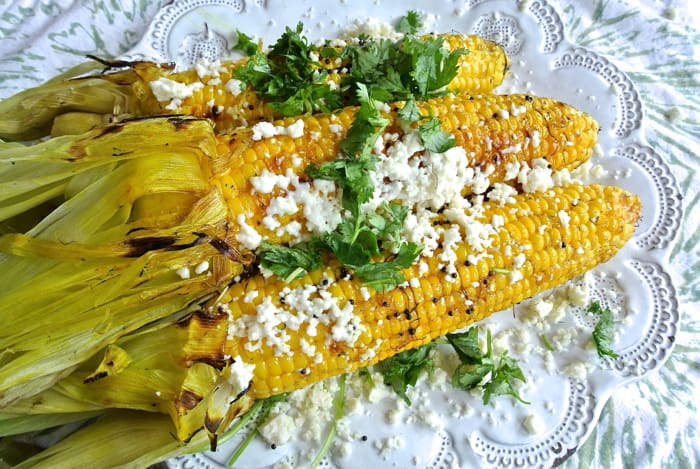 This grilled street corn recipe is inspired by the roasted or grilled corn offered by street vendors all across Mexico. I've added a Sukhi's twist by using the Madras Vegetables Complete Spice Mix for a deeply flavorful sweet corn. If you have any leftovers, cut kernels from the cobs and toss into your favorite salad.
What is Street Corn?
If you've never been to Mexico, you may be unfamiliar with the delicious street corn that's sold on practically every corner. Also called elote, street corn is often topped with mayonnaise or sour cream, cotija cheese, chili powder, and a squeeze of lime juice. It's a quick, cheap snack that's popular among tourists and locals alike, and it's incredibly easy to make at home.
Grilled Street Corn Ingredients
We've put a twist on the traditional Mexican street corn by adding a blend of Indian spices. For this easy street corn recipe, you'll need:
Fresh sweet corn
Unsalted butter
Madras Vegetable Spice Mix
Cotija or queso fresco cheese
Fresh cilantro
Lime wedges
How to Make Street Corn
First shuck the corn, making sure to tie a few leaves into a knot at the base of the corn cob (this makes street corn easier to eat with your hands). Soak the corn in a bowl of water for a few minutes before grilling over medium-high heat.
While the corn is cooking, heat the spice mix and butter in a small skillet until fragrant. Once corn is finished cooking, place it in a packet of aluminum foil and pour the butter mixture over top. Seal the corn in the foil packet, then return to the grill for a few minutes.
Once the corn has been cooked in the butter mixture, remove it from the heat and top with fresh cilantro and crumbled cotija cheese. Squeeze fresh lime juice over the corn for a pop of flavor.
Tips for Making Street Corn
If you don't have an outdoor grill, you can also make this street corn recipe inside on a grill pan.
Don't rotate the corn too much while it's grilling, otherwise it won't develop those lovely grill marks.
The cilantro and fresh lime are optional, but they add lots of fresh flavor to this recipe.
More Indian Recipes: