What Is Rakhi? Discover The Meaning of Raksha Bandhan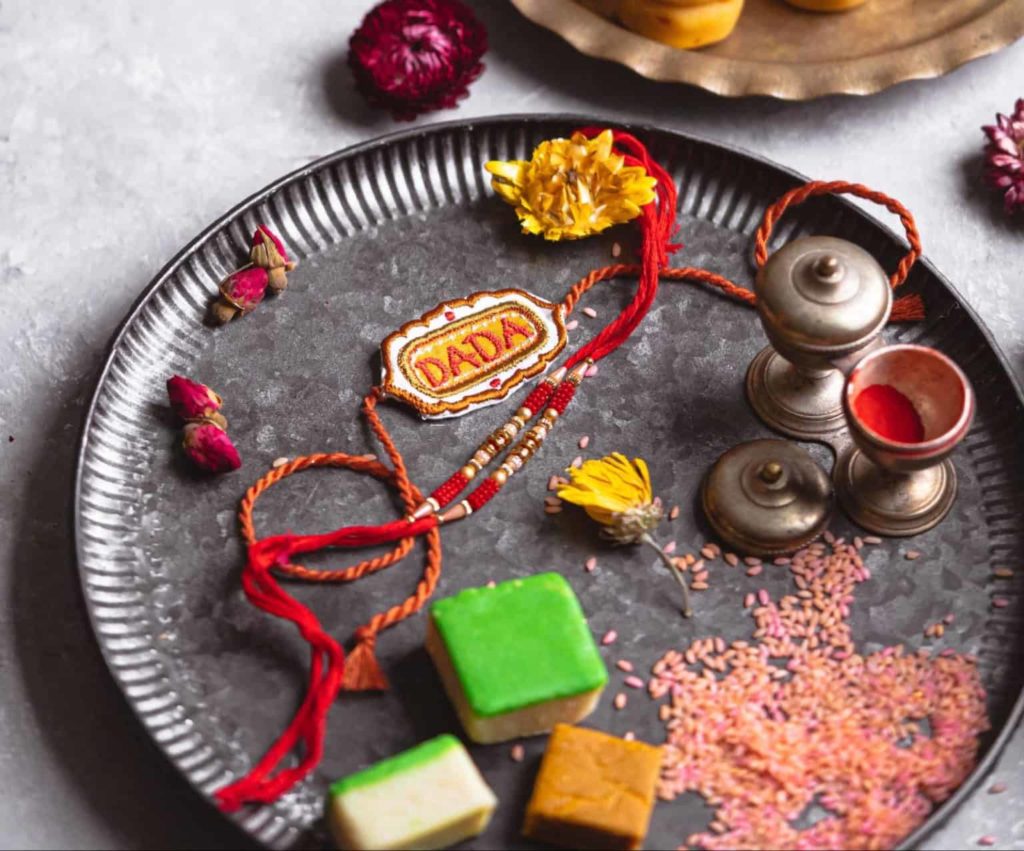 For many, there's no greater bond than the connection between siblings. As you grow up, these relationships might change and evolve, but they'll always be rooted in deep care and love for one another.
That's why we have Raksha Bandhan, or Rakhi, one of the most important festivals and holidays in Indian culture. This day celebrates the tightly knit bond that exists not only between brothers and sisters but between family members and close friends as well.
Let's learn about this Indian festival and discover how you can incorporate the lessons of Rakhi into your daily life.
What Is Raksha Bandhan?
Rakhi is short for Raksha Bandhan or Raksha Bandhana. Rakhi is a Hindu festival celebrating the bond between siblings and families, often called Brother and Sister Day.
Translated from the original Sanskrit, "Raksha Bandhan" meaning translates to "bond of protection."
It's celebrated on the day of the full moon of Shravana, a Hindu month typically falling in July and August. Despite the vast differences between regions, Raksha Bandhan is celebrated all across the subcontinent and across all walks of life.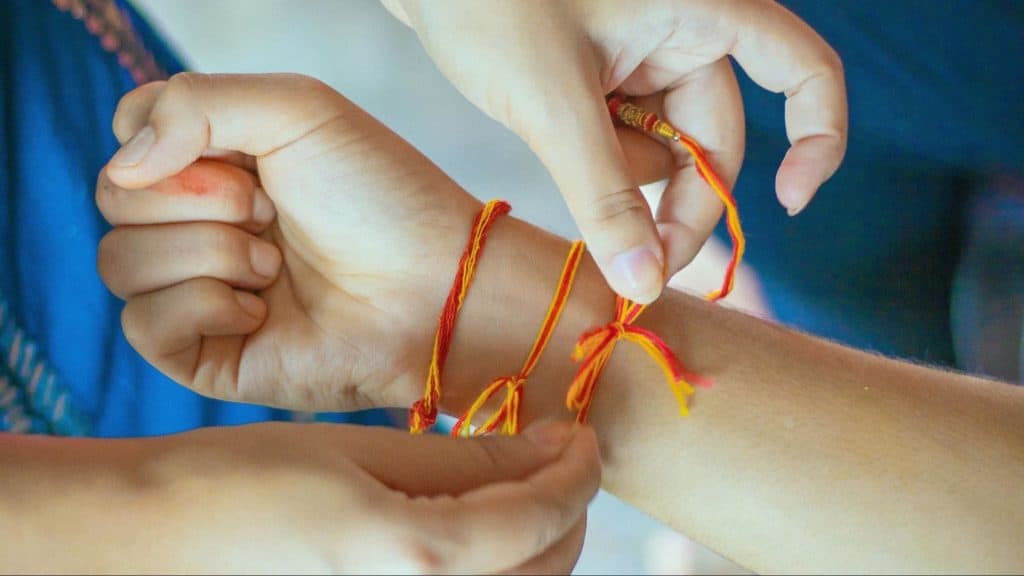 Rakhi's Mythic Origins
Raksha Bandhan has many different origin stories throughout Hindu tradition, with one of the most widely known accounts found in the Indian epic, the Mahabharata.
In this story, Lord Krishna cuts his finger. Draupadi, who felt as close to Krishna as she would have to an actual brother, tore off a piece of her sari and wrapped it around his wound.
Surprised and moved by her gesture, Krishna vowed to protect her and return the favor to her sometime in the future.
Passed down through the generations, this story inspires millions of modern-day Indians to display their gratitude for friends and family in the form of a ritual on Rakhi every year. It's a day for brothers, sisters, and all family members to remind one another of how much they care.
The Customs of Rakhi
The days leading up to Rakhi involve friends and family reaching out to loved ones to invite them to their celebration as a token of their gratitude.
Once the festival arrives, sisters apply tilak (religious mark) to their brothers' foreheads. Next, they tie Rakhi to their brothers' wrists. This thread represents the siblings' love and wishes for each to find fulfilling happiness. In doing so, they pray for their brothers' good health and long life.
Finally, the sister will perform arati, a practice in which she lights a small oil lamp and prays for her brothers' well-being and success in life.
Once the sisters have completed their portion, the brothers do the same, offering a gift to their sister and making a promise to care for her and look after her.
Today, the meaning of Rakhi extends not only to blood relatives but also to distant cousins and close friends. The festival is a great occasion to bring together all generations: grandparents, aunts, uncles, and any loved ones you can imagine. It's an opportunity to show your gratitude and appreciation for the people in your life.
Rakhi's Meaning — Beyond Brothers and Sisters
Rakhi primarily celebrates the bond between brothers and sisters, though the holiday also celebrates the bond between all people.
Friends and family members often use the opportunity to show their appreciation towards each other by tying Rakhi on each other's wrists.
This ritual doesn't simply serve as an external display of love but also elevates friends to the level of family. A rakhi tied between neighbors represents a powerful bond that transcends the traditional neighborly relationship.
All in all, Rakhi revolves around protection and familial love.
It also drives home the message that the connections that bind us together are much deeper than blood alone. Indeed, it expands everyone's conception of just what it means to be family in the concept of Vasudhaiva kutumbakam — bringing together the whole world as one.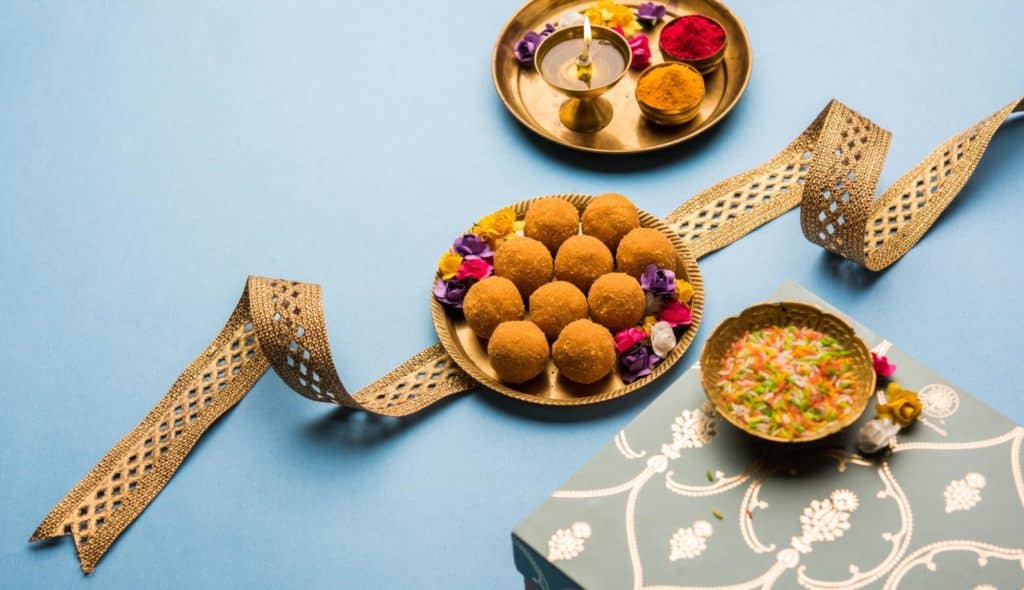 Food Served On Raksha Bandhan
Like all Indian festivities, food and celebration go hand-in-hand. Here are some of the most popular dishes you're likely to find at a Rakhi celebration.
Moong Dal Halwa
This rich and savory lentil recipe is one of the most popular in North India.
Made up of mung lentils, ghee, cardamom, and pistachio, moong dal halwa takes a lot of time to make, but it's always worth it.
Chole Bhature
Chole bhature is a delicious fried bread made of maida flour, and it's one of the most popular breakfast comfort foods in Punjab. It's also one of the stars of the show at any celebration.
Kheer
No Indian celebration is complete without creamy Kheer.
This decadent dessert dish brings together basmati rice, heavy cream, and sugar along with a subtle hint of toasty vanilla. It's the perfect palate-cleanser at the end of a long meal.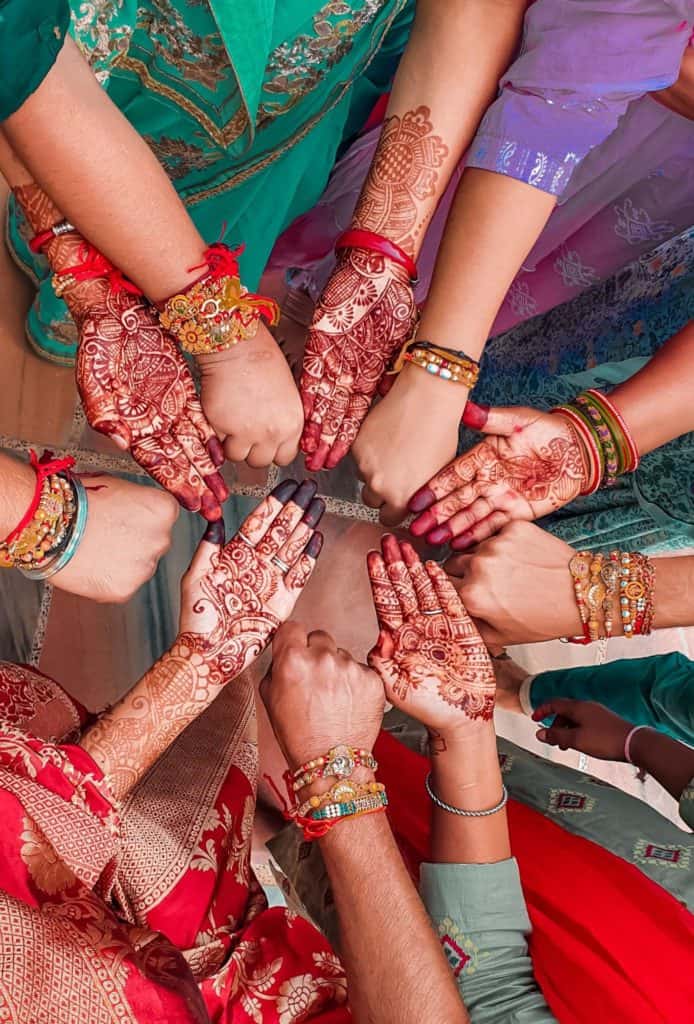 Happy Raksha Bandhan 2022 From Sukhi!
Being a good brother or sister isn't easy. In fact, it's one of the most difficult relationships to maintain for many as they grow up.
It's easy to make mistakes, and often those mistakes result in hurting the feelings of someone you care about. Remember that these relationships among family are some of the most important you'll ever have.
We all need time to reflect on how deeply we appreciate our loved ones and show them how much we care. That's exactly why we need celebrations like Rakhi or Raksha Bandhan.
To have the best Rakhi celebration possible, be sure to stock up on Indian essentials like our crowd-pleasing Chicken Tikka Masala, fluffy lemon rice, or toasty and crispy samosas.
As you're waiting for your order to arrive, read through our blog to learn everything there is to know about Indian culture. Explore the vast differences between Indian regional cuisine and add some delicious vegetarian-friendly recipes to your repertoire for your next sibling celebration.