Vegetable Samosas: Our Delicious Favorites
Let's dive into the mouthwatering world of vegetable samosas. These delectable treats are perfect for a side dish, snack, or even entree.
We offer a range of vegetable samosas that cater to various tastes and preferences. Whether you prefer the classic potato samosas or the unique jalapeño and cheese samosas, there's something for everyone to enjoy.
Join us as we take a closer look at these delightful options and discover the wonders of veggie samosas.
What Are Veggie Samosas?
Before we delve into the specific options, let's take a moment to understand what vegetable samosas are. Originating from the diverse culinary landscape of India, vegetable samosas are savory pastries filled with a delicious mixture of vegetables, spices, and herbs.
The samosa pastry is typically made with all-purpose flour or puff pastry, producing a crisp and flaky texture when cooked to perfection. These delightful triangular treats have gained popularity worldwide due to their incredible flavors and versatility.
Customizing Your Samosas
One of the beautiful aspects of vegetable samosas is the ability to customize them according to your taste preferences and dietary needs. Whether you follow a vegetarian or vegan diet, you can create your veggie-based samosas with a wide range of fillings. Here are some ideas to get you started.
Potato and Pea Filling
The classic potato and pea filling is a staple in vegetable samosas. To make this filling, boil and mash potatoes, then add cooked green peas. Season it with a blend of cumin seeds, garam masala, and dried mango powder (amchur) for a burst of flavor.
Mixed Vegetable Filling
Experiment with a medley of vegetables to create a colorful and nutritious samosa filling. You can include finely chopped carrots, bell peppers, cauliflower, beans, or any other vegetables you choose. Sauté the vegetables with cumin seeds, garam masala, and a touch of green chili for an added kick.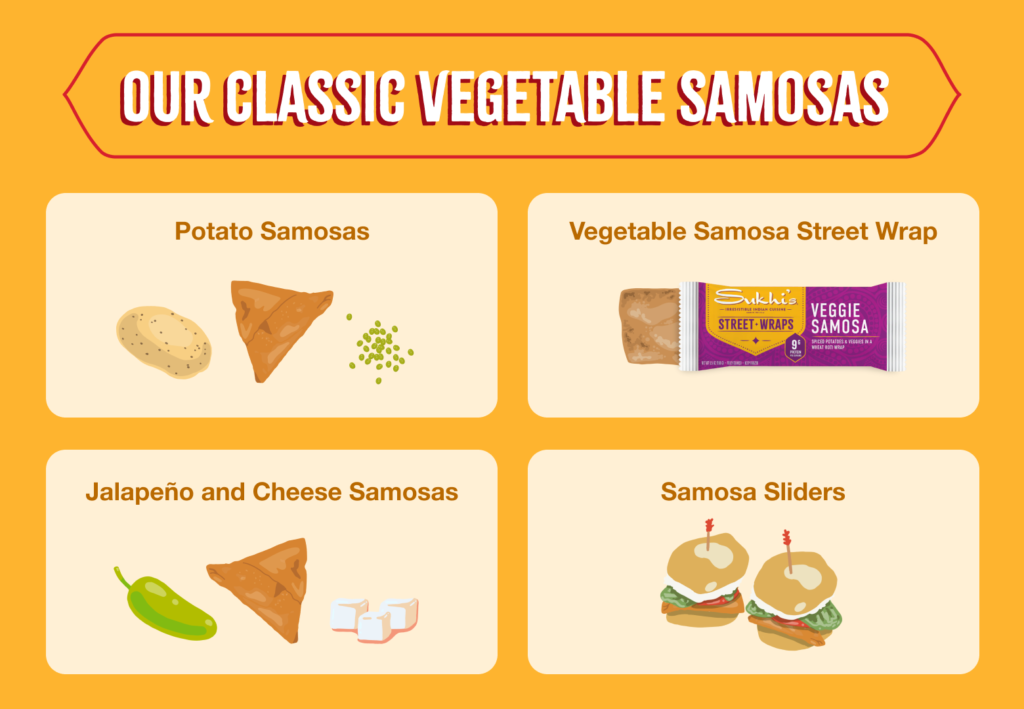 Spinach and Paneer Filling
For a rich and creamy filling, combine finely chopped spinach with crumbled paneer (Indian cottage cheese). Sauté the spinach until wilted, and mix it with the paneer and spices like garam masala and lemon juice. This filling adds a delightful combination of flavors and textures to your samosas.
Lentil Filling
Consider a lentil-based filling to add more protein to your samosas. Cook and mash lentils such as yellow or red (moong or masoor dal), and season them with spices like cumin seeds, turmeric, and garam masala. This filling provides a hearty and satisfying option.
Luckily, at Sukhi's, you won't have to worry about customizing your samosas. You'll love our veggie samosa options.
Our Classic Vegetable Samosas
At Sukhi's, we take pride in our classic vegetable samosas that capture the essence of authentic Indian flavors. With a variety of options to choose from, you'll indeed find a favorite among them. Let's explore some of our most beloved vegetable samosa offerings:
#1 Potato Samosas
Our potato samosas are a timeless classic. These samosas are filled with a flavorful mixture of spiced potatoes and peas, creating a harmonious blend of textures and tastes.
We believe in using only the finest ingredients, ensuring that our potato samosas are free from preservatives and made with non-GMO ingredients. Perfectly sized for sharing or enjoying as a snack, Sukhi's Potato Samosas are a must-try for any samosa enthusiast.
#2 Street Wrap Vegetable Samosas
Our Vegetable Samosa Street Wrap is the way to go if you're looking for a convenient and wholesome option.
Wrapped in a soft and nutritious wheat roti, this street-style samosa is filled with spiced potatoes and a medley of vegetables. Packed with 9 grams of protein per serving, it's satisfying for those seeking a balanced and flavorful meal.
#3 Jalapeño and Cheese Vegetable Samosas
For a bold and spicy twist, our Jalapeño and Cheese Samosas are a true delight. These handcrafted triangles are bursting with an irresistible filling of seasoned potatoes, jalapeño peppers, and cheddar cheese.
To enhance the experience, we've included our signature tomato-onion sauce, adding an extra layer of savory goodness. Whether you're hosting a gathering or treating yourself, these samosas will surely add a kick to any occasion.
#4 Samosa Sliders
Our Samosa Sliders bring a fusion of flavors and convenience to Indian street food. These delightful mini sandwiches combine the beloved Sukhi's Potato Samosas with fresh ingredients and are easily customizable to fit any diet.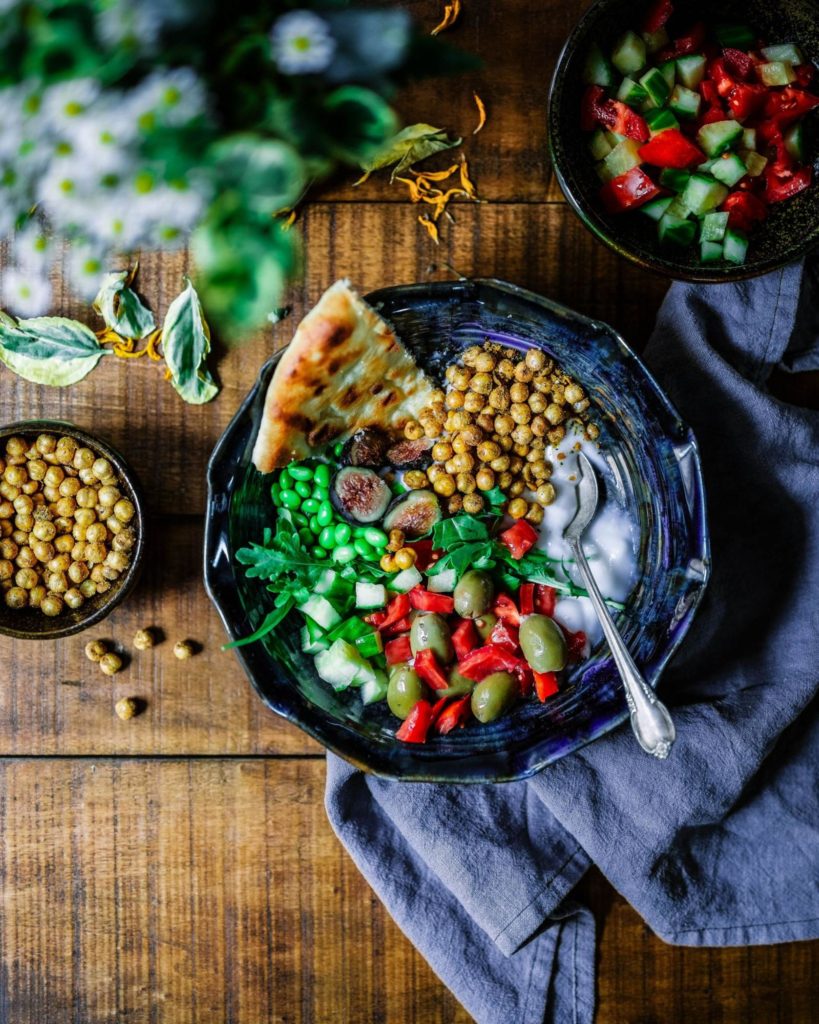 Finding the Best Veggie Samosas With Sukhi's
This article has explored the wonders of homemade samosas, but at Sukhi's, we offer so much more than that. Whether you prefer plant-based or meat products, we have all you'll need.
In addition to vegetable samosas, Indian cuisine offers a wide array of classic vegetarian dishes that many love. These dishes showcase India's culinary traditions' rich flavors, and cultural diversity. Let's explore a few popular vegetarian options:
Explore our frozen entrees for a glimpse of quick, easy-to-make delights. If you want more of a challenge, try one of our recipes. They range from simple to complex, but you'll be a pro in the kitchen with enough time. If you like our street wrap, explore our variety of them!
We want to make Indian food easy and accessible. Soon enough, you'll have your family asking for more.