Basics of Indian Cooking- Rice
Rice is one of the most loved staple foods in Indian households. Basmati rice makes the perfect combo with traditional Indian curries and various other dishes. Lemon rice is also one of the best rice dishes that Indians love.
Rice is love! I mean, who doesn't like it? At least no Indian can refuse to eat any tasty meal made from rice or with rice.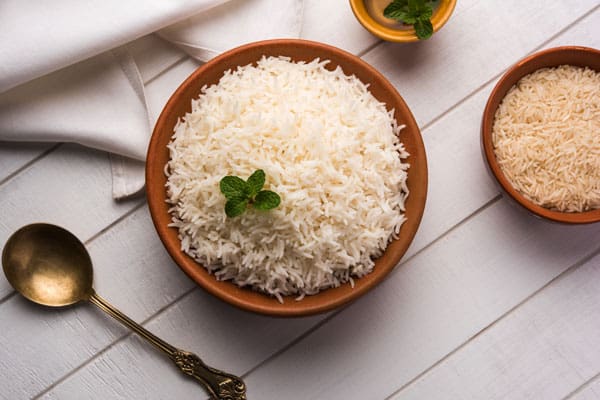 Yes, rice is the most popular and common food in India. It is a staple food item in Indian households. Indians love rice, whether rice are basmati, brown, black, or any other type of rice. Not to mention, there is a range of diverse dishes in India that contain rice as the main ingredient. Because of India's lavish and tasty traditional and cultural desi (local) cuisine, no one can resist mouthwatering recipes featuring rice as the star item.
As India is the second largest generator of rice in the world, producing around 20% of global rice, it is also cheap in the country. Around 50% of the Indian population depends on rice for nourishment, which makes it the largest consumer of the rice. Some archaeological evidence shows that rice cultivation dates back to 6500 BC in India and even used in the Valley of Ganges River.
Basmati rice always wins the hearts and is a top pick of Indians among the many varieties of rice found in the country. People make this rice with extra care and precaution so that it does not get soggy or mushy. If you are thinking of serving your dal makhni with basmati rice in lunch, you can find the recipe here in the article "how to cook basmati rice." Once you master cooking a bowl of rice with a perfect texture, you are ready to learn how to cook lemon rice.
This yellowish rice is great in taste and easy to make. Indians commonly eat lemon rice with different other dishes like curries. If you want to know more about this rice recipe, its history, and how you can make a veggie version of this aromatic rice, you have come to the rice (read right) place.
Varieties of Rice in India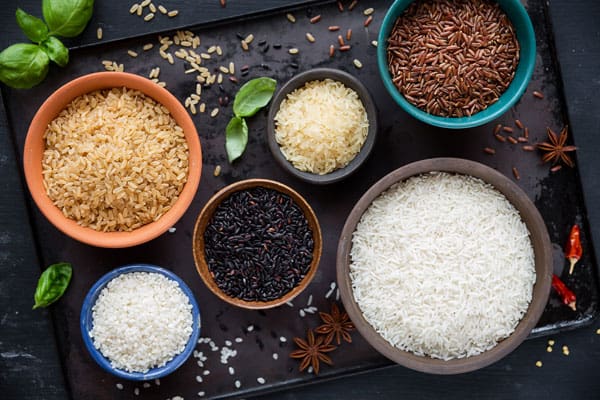 As you have learned that Indians have a special place for rice in their hearts and their menus, this is why you can find a variety of rice in India. The following are the most common types of rice Indians cook.
Basmati Rice
Basmati rice comes first in our list because of its extensive use in almost every state of India. This tasty long-grain rice is quintessential in most of the parts of the sub-continent. Fortunately, this rice is native to India, and you must know that India produces up to 70% of the world's basmati rice. This rice has incredibly high demand, which forces different countries to start growing it, such as the United States. You may have enjoyed an amazing biryani like Sukhi's biryani made from basmati rice. These rice are more popular for cooking dishes such as pilaf, curries and stews, pudding, lemon rice, and biryani. This rice also has a lot of health benefits.
Short Grain Rice
This variant of rice is also popular in India and has a short-grain and white color. A couple popular ones used around the country are Sona Masuri and Matta varieties. This variety is almost twice as wide as basmati but maybe half the length. It's a great source of amylopectin starch, so when you cook it, you may feel a chewy, creamy, and firm taste. This is also the best rice to make traditional risotto called khichri, ginger and cinnamon pudding as well as shrimp fried rice.
Black Rice
Black rice is also known as forbidden rice and purple rice due to its raw appearance. It has been grown in India for centuries. It gives you a color of dark purple after cooking because of the high amount of anthocyanin. This rice is more commonly used in pudding, porridge, and baked goods.
Brown Rice
You may know it as whole-grain rice. It is like white rice, but it contains all the parts except the outer hull. In case you don't know, the white rice doesn't have an outer hull, germ, and bran. You can make a lot of dishes from this rice, but of course, basmati rice is much tastier than this.
Some Other Types of Rice
There are also plenty of types of rice largely grown and eaten in India. Some of them are:
Polished Rice– they are similar to white rice but don't have a layer of bran and germ.
Wild Rice– they are harvested from a genus of grass called Zizania.
Jasmine Rice– they are long-grain rice with a jasmine aroma and have a slightly sticky texture and long kernel after cooking.
Parboiled Rice– they have a fluffy texture when cooked because of the gelatinized layer of starch on it.
Sticky Rice- they have a sticky texture after cooked, and also known as sweet rice.
Sona Masuri Rice– they are lightweight medium-grain rice with an aromatic smell.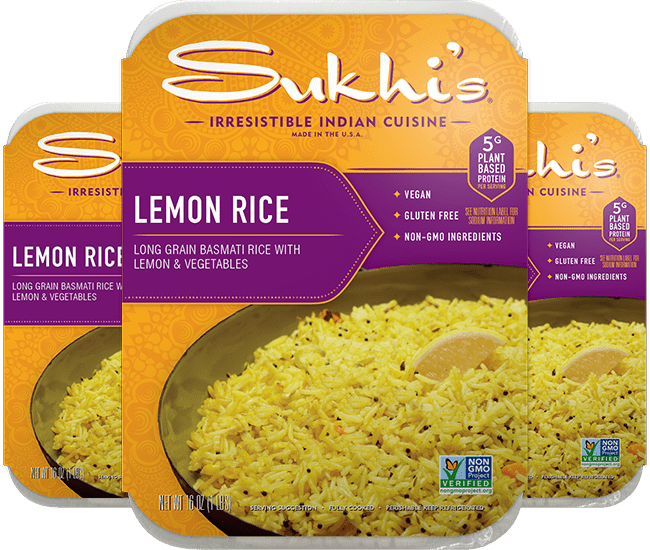 Sukhi inherited the love for cooking from her grandmother, and it soon became her passion. She is an Indian and has learned great cooking tips from her grandmother. In 1985, with an aim and goal in her heart, she came to the U.S. She wanted to share the amazing native cuisine of India with foreigners so that people could enjoy a wide variety of foods.
By following the path of Indian cooking, she has made mouthwatering food products under the name of Sukhi's Indian Cuisine. These products have the authentic traditional Indian flavor that attracts food lovers in the U.S., especially those who love spices.
While all of their food products are sumptuous, Sukhi's Lemon Rice is something you can't find anywhere. Wondering why they have made this product? Because Sukhi believes in healthy cooking, she chose lemon rice for her customers' well being. This yellowish and delicious rice can give you lots of nutrients beneficial for your health. It contains a high level of vitamin C that can help you reduce cholesterol and prevent anemia. Not to mention, it is also a great source of fibers because of lemon ingredients that can boost digestive health. This product also contains folic acid and protein due to the presence of Urad dal and Chana dal.
With this product, Sukhi has made it possible for foodies in the U.S. to enjoy mouthwatering and lip-smacking lemon rice and get its health benefits. You can satisfy your taste buds by eating this rice with Tandoori Chicken, Chicken Coconut Curry, or any other traditional dish. Well, don't forget to bring plenty of Sukih's lemony rice if you are inviting guests to dinner. I bet your guests would lick their fingers and definitely ask for the recipe.
What is the History of Lemon Rice?
This luscious and zesty rice is also known as Chitana. This rice-based dish has originated from South India. South Indians used to make this food from a unique seasoning known as Gojju or Oggarane. This seasoning includes fried lentils, mustard seeds, peanuts, chilies, lemon juice, and some optional ingredients like scrapes of unripe mango. To make it look yellow, they used to add turmeric. Some people also use onions and garlic, but they are not present in the real recipe.
This rice is popular throughout India, but Karnataka has taken lemon rice too seriously. They have become so impressed with its flavor, texture, and aroma that they have included lemon rice in their daily diet. Who got the idea to make this tremendous recipe for the first time; there is no knowledge about it. But this is a traditional dish of India for decades.
Ingredients of Lemon Rice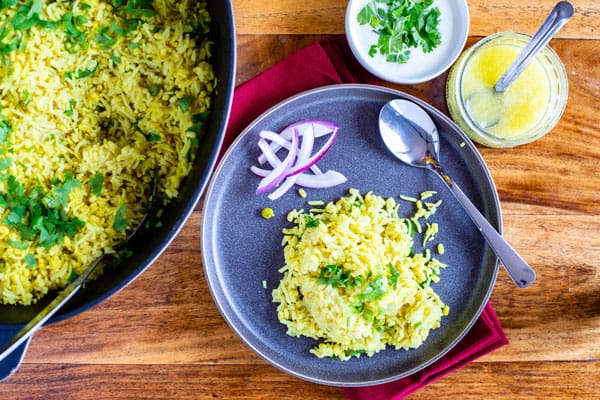 There are many ingredients used in rice recipes, depending on the version you are making. Because of the popularity of this rice, people have experimented with yellow rice and created different versions. The following are the most common and traditional ingredients you will find in zesty lemon rice.
Rice
Lemon juice or lime juice
Salt
Oil
Mustard seeds
Turmeric powder
Chana dal
Urad dal
Vegan and Instant Pot Version of Lemon Rice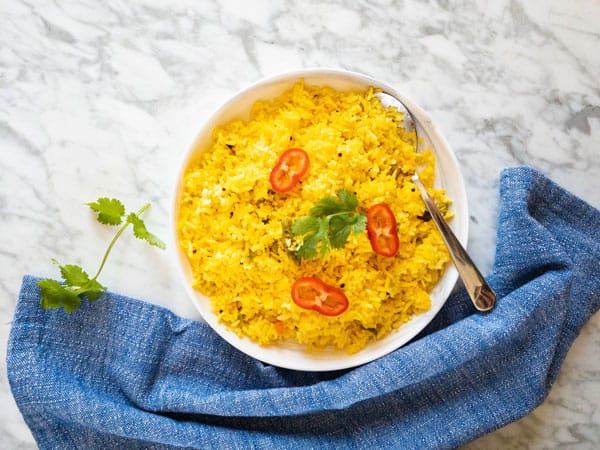 As we have discussed, there are several versions of lemon rice. If you love veggies, you can try these recipes to enjoy the deadly combo of vegetables and rice. It will take less than an hour to make this recipe. You can make this in dinner or lunch, whichever you like.
So, shall we start?
[wprm id=1255]
Indian Lemon Rice:
Ingredients
1

tbsp

chana dal

1

cup

basmati rice

1

tbsp

urad dal

1

tbsp

mustard seeds

2

green chilies slit

you can also use it according to your taste buds

½

tbsp

turmeric powder

1

sprig curry leaves

2

pinches

asafetida

Lemon Juice

use one big lemon

1

bell pepper or capsicum chopped fine

optional

2 to 3

tbsp

coriander or cilantro chopped leaves for garnish

Salt to taste

1

tbsp

coconut oil

1

and ½ carrot
Instructions
Wash your rice 3 to 4 times until it gets clean. Soak the rice for 30 minutes.

Turn on the sauté mode of the instant pot and when it gets heated, add mustard seeds, oil, urad dal, chana dal, green chilies, turmeric powder, curry leaves, and asafetida. Wait till the mustard seeds splutter.

Pour the soaked rice, 1 and ¾ cup water, 1 tbsp salt, and let it cook on manual high for six minutes and release the pressure the next minute.

Open the pot and let it be for a couple of minutes. Check the rice with a fork.

Take out the rice in a separate bowl and add one tbsp oil in the pot.

Toss the carrots and capsicum, and sauté it until capsicums become slightly soft. If you want it to cook fast, add a pinch of salt.

Now, put the rice in the pot and mix them well.

Pour the lemon juice and add salt according to your taste. Garnish your delicious rice with the roasted peanuts and chopped cilantro.

You can serve it with papad or chips. Or make Sukhi's Chicken and Meatball Curry with it.
Notes
You can go for roasted cashews if you don't want to add peanuts. Or just skip adding both.
Urad dal and chana dal are necessary elements of this dish. So, don't ever skip them.
Serrano chilies or jalapenos are a great substitute for green chilies.
Don't forget that you need to use basmati rice so that you can get traditional scent, texture, and taste.
Bottom Line
Are you feeling tempted to have lemon rice with your favorite curry after learning so much about this sumptuous dish? Did you know that lemon rice have so many benefits to offer? Well, all the things you have read are absolutely correct. So, cook this special Indian rice dish today to satisfy your craving and feel the pleasure of authentic taste while enjoying its benefits.