Use our Khichdi (or Khichri) recipe to make the classic one-pot meal. The dish is pronounced just as it looks, kich-dee. 
Every now and then, we need to make a nice and hearty dinner. Especially during stressful periods, a little comfort food goes a long way. Enter in: Khichdi.
Breaking Down Khichdi 
This week, we'll cover the basics of everything Khichdi, including: 
What is Khichdi?

Is Khichdi good for health?

Tips for making Khichdi

Types of dal to use in a Khichdi

What do you serve with Khichdi?
By the time you finish reading, you'll be a Khichdi expert!
What is Khichdi?
Khichdi, also known as Khichri, is a hearty, bold dish unlike any other. 
It's made from urad dal (lentils) and Basmati rice. It's also delicately spiced with turmeric, salt, asafetida, and cumin. It gets its buttery flavor from ghee. You can mix in any vegetables on hand and garnish it with cilantro or chutney. Many people also serve it with a side of plain yogurt (dahi). 
This savory dish is served for lunch or dinner typically during the fall harvest. It's a go-to comfort food meal, especially when sick. It's said that Khichdi was served in the imperial kitchen during India's medieval times!

Is Khichdi Good for Health?
Due to Khichdi's rice and veggie makeup, the dish brings many health benefits. India Times outlines four reasons Khichdi is good for you:
1. Balanced nutrients, including carbs, protein, fiber, vitamin C, calcium, magnesium, phosphorus, and potassium
2. Easily Digestible, making it perfect for an upset stomach or in general when you are feeling under the weather
3. Ayurvedic diet-approved, meaning it can improve immunity, energy, and digestion
4. Gluten-free, meaning it can be easier to digest for many. 
Because Khichdi is a nutritionally-balanced meal, it checks off many food group boxes of your recommended daily intake, like grains and veggies. Khichdi is a healthy, well-balanced meal that takes the guesswork out of healthy eating! 
Our Recipe: Khichdi 
If you're looking to make homemade Khichdi, you'll be pleased to know it's relatively easy! Let's stock up on the proper ingredients. 
1 cup split urad dal (lentils)

¼ Cup Ghee (clarified butter)

1 Cup of Frozen Peas

1 ½ Tsp Salt

¼ Tsp Asafetida

2 Tsp Ground Cumin

1 Tsp Ground Turmeric

2 Tsp Coriander

Garnishes: Cilantro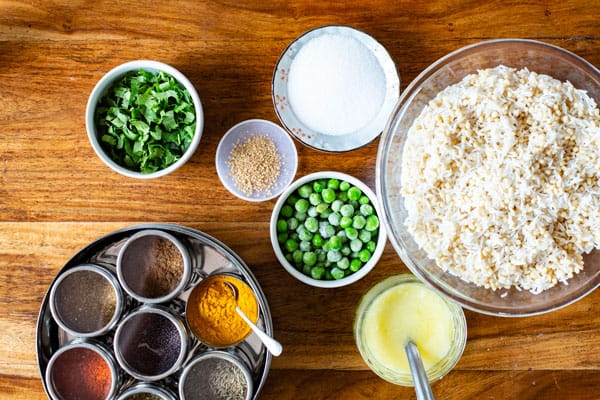 Once you've checked off your grocery list, you're ready to get started. 
Start by heating your ghee in a large pot over medium-high heat. Add cumin, asafetida and coriander. Saute for 20 seconds. Add your frozen peas and cook for 2-3 minutes. Then, add your rice and rinsed lentils. Add turmeric and salt, and continue to stir! 
Add water to your pot and bring to a boil for 20 minutes. Once fully cooked, uncover and garnish! Drizzle the ghee on top and enjoy your hot Khichdi! 

Tips for Making Khichdi
While following the Khichdi recipe is simple to ensure you're taking proper precautions to  make the best dish possible! Here are a few of the best tips and tricks: 
Don't Overcook
It can be tempting to want your mixture to soak up every last bit of spice but don't sacrifice the texture of the beans and rice. If you cook too long, you may end up with a bowl of mush. 
Don't Burn Your Ghee
Be careful not to burn your ghee in the cooking process. Don't leave your heat too high, and make sure you keep track of how long it's been in the pan. 
Rinse Properly
Rinse in a fine-mesh sieve so your rice and beans can't escape through. 
Use With Any Vegetables On Hand
We used peas in this version, but we also like using green beans or carrots. We recommend using vegetables that are light and don't cause a lot of gas. For example, we would tend not to use cauliflower, broccoli or bell peppers as those can be gassy and not great for when you have an upset stomach.
Types of Dal to Use in a Khichdi
Different dal may be substituted into your Khichdi. Here are some types of dal to try in your dish:
What to Serve With Khichdi 
Khichdi is a beautifully fragrant dish, but what should you serve it with? A versatile dinner, there are many different foods that can accompany this classic healthy Khichdi. 
Raita Similar to tzatziki, raita is a creamy condiment typically made up of yogurt, buttermilk, cucumber, and mint and is used to balance out a spicy dish. This, paired with Khichdi, is a great combination to try!
Yogurt Plain yogurt is a staple in Indian cuisine and goes great alongside the savory Khichdi dish. Serve on the side or a dollop directly on top!
Simple Salad Whether you're a vegetarian or just enjoy your veggies, throwing together a salad alongside Khichdi is a quick and fresh option.
Achaar Who doesn't love pickled food?! Achaar is a perfectly tangy side to accompany Khichdi. They're often made from raw mango and are straightforward to make!
Papadum This food is made from ground lentils and black gram flour and is an excellent crunchy sidekick to Khichdi, eaten as a side before or during your meal. 
Cook Delicious Meals With Sukhi's 
We hope you find our Khichdi (or Khichri) recipe simple and delicious. At Sukhi's, we offer an array of delectable, rich meals. Try our chicken coconut curry with mango or roasted tomato curry to see just how good cuisine can get. If you liked this recipe, keep exploring! We'll show you how to make an entire course, from side dishes to Indian Desserts. There's no better way to expand your culinary palate! 
How did your Khichdi go? Let us know in the comments, and don't forget to tag us in your photos!