With this Khichri recipe, learn how to make and serve the most perfect Khichri with this new guide!
Every now and then, we need to make a nice and hearty dish for dinner. Especially during certain periods in our lives, a little comfort food goes a long way. Enter in: Khichri.
In this post you will find:
This week, I wanted to tell you everything there is to know about the infamous Khichri. We're going to cover all of the basics, including:
What is Khichri?

Is Khichri good for health?

Tips for making Khichri

Types of dal to use in a Khichri

What do you serve with Khichri?
Once you're done reading through this, you're going to be a Khichri expert!
What is Khichri?
Khichri, also known as Khichdi, is a hearty, bold dish unlike any other. It's made from urad dal (lentils) and Basmati rice as the main ingredients. It's also delicately spiced with turmeric, salt, asafetida, and cumin. It gets richness from ghee, or clarified butter, and is cooked with water. You can garnish it with cilantro and coriander chutney and serve with any sort of vegetables you have on hand.
This savory dish is served for dinner and is also served more often during certain seasons, like the fall harvest. Plus, it's a go-to comfort food meal when children and adults alike are sick. It's also said that Khichri was even served in various forms in the imperial kitchen during medieval times in India!

Is Khichri Good for Health?
Since Khichri is comprised of veggies and rice, you would be right in guessing that there are many health benefits you can gain from this classic Indian dish. Here are four of the main reasons that Khichri is good for health, as outlined by India Times:
Balanced nutrients

, including carbs, protein, fiber, vitamin C, calcium, magnesium, phosphorus, and potassium

Easily Digestible

, making it perfect for when you've fallen ill

Ayurvedic diet-approved

, meaning it can improve immunity, energy, and digestion

Gluten-free
Along with these, since Khichri is a nutritionally-balanced meal, it checks off many of the boxes for your recommended daily intake of food groups, like grains and veggies. This makes it easier for you to hit your diet goals because it takes some of the guesswork out of healthy eating. This is a healthy, well-balanced meal for both young and old alike!
How to Make Khichri
If you're looking to make homemade Khichri, you'll be pleased to know that it's a fairly easy task! But before you make your Khichri, you're going to have to make sure you have all of the right ingredients:
1 cup split urad dal (lentils)

1 1/2 cups Basmati rice

4 cups of water

1 tsp ground turmeric

1 1/2 tsp salt

1/4 cup ghee (clarified butter)

1/4 tsp asafetida

2 tsp ground cumin

Garnishes: cilantro and coriander chutney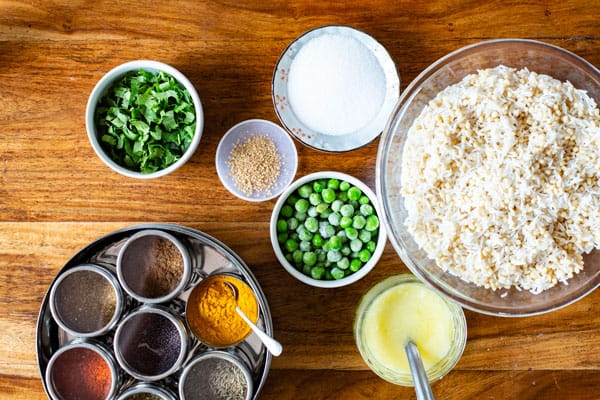 Once you've checked all of these off of your grocery list, you're ready to get started. First, mix your rice and lentils together in a fine-mesh sieve and rinse with cold water two or three times. Drain and set aside while you heat the clarified butter in a large pot over medium-high heat. Then, add in your cumin, asafetida, and turmeric and saute for 20 seconds. Pour in the rinsed rice, lentils, and your water and bring it to a boil. Once it's boiling, cover and reduce heat to low and simmer for 30 to 40 minutes or until the rice and lentils are cooked. Serve with freshly chopped and coriander chutney and you're all set!
Tips for Making Khichri
While the process for making Khichri is a simple one, there are still a few ways to ensure you're taking proper precautions and make the best traditional Khichri possible! Here are a few of my favorite tips and tricks to remember when I make Khichri:
Don't overcook! It can be tempting to want your mixture to soak up every last bit of spice, but you don't want to do that and sacrifice the texture of the beans and rice. Be careful not to cook too long otherwise you might end up with a bowl of mush if that's not what you're going for.

Use caution when heating up your ghee. It can be easy to have the heat up too high or have it alone in the pan for too long, but you want to be careful not to burn it on accident.

Make sure to rinse in a fine-mesh sieve, otherwise, your rice and beans are in danger of falling out of the sieve if the holes are too big.

Get creative with the veggies you add here! Mostly anything goes and it just depends on personal preference which you add to your beans and rice.
Types of Dal to Use in a Khichri
While the recipe for Khichri calls for dal, it doesn't always specify what type of dal to cook with. In our recipe above, we suggest using urad dal, but that doesn't mean that's the only type of dal that can be used! Different dal may be substituted into your Khichri dish. Here are some of the types of dal to try in your Khichri:
What Do You Serve with Khichri?
Khichri is a beautifully fragrant dish… but what should you serve it with? A versatile dinner, there are many different foods that can accompany this classic healthy Khichri.
Raita Similar to tzatziki, raita is a creamy condiment typically made up of yogurt, buttermilk, cucumber, and mint and is used to balance out a spicy dish. This paired with Khichri is a great combination to try!
Yogurt Plain yogurt is a staple in Indian cuisine and goes great alongside the savory Khichri dish. Serve on the side or a dollop directly on top!
Simple Salad Whether you're a vegetarian or just enjoy your veggies, throwing together a salad alongside Khichri is a quick and fresh option.
Achaar Who doesn't love pickled food?! Achaar is a perfectly tangy side to accompany Khichri. They're often made from raw mango, and they're straightforward to make!
Papadum You've heard of dosa, but do you know about Papadum? They're the same in that they're both flatbread, but papadum is much more thin and crispy. This seasoned dough is an excellent crunchy sidekick to Khichri.
What do you absolutely love serving with your Khichri? Let us know in the comments and don't forget to tag us in your photos!