Curry Vegetable Fritters: Comfort and Spice
Step into a world where comfort food meets a kick of spice with Sukhi's Curry Vegetable Fritters recipe. This innovative dish brings together the best of both worlds, blending the appeal of fritters with the flavors of Indian curry.
Let's dive into the story behind this creation, exploring its roots and the satisfying blend of tastes and textures.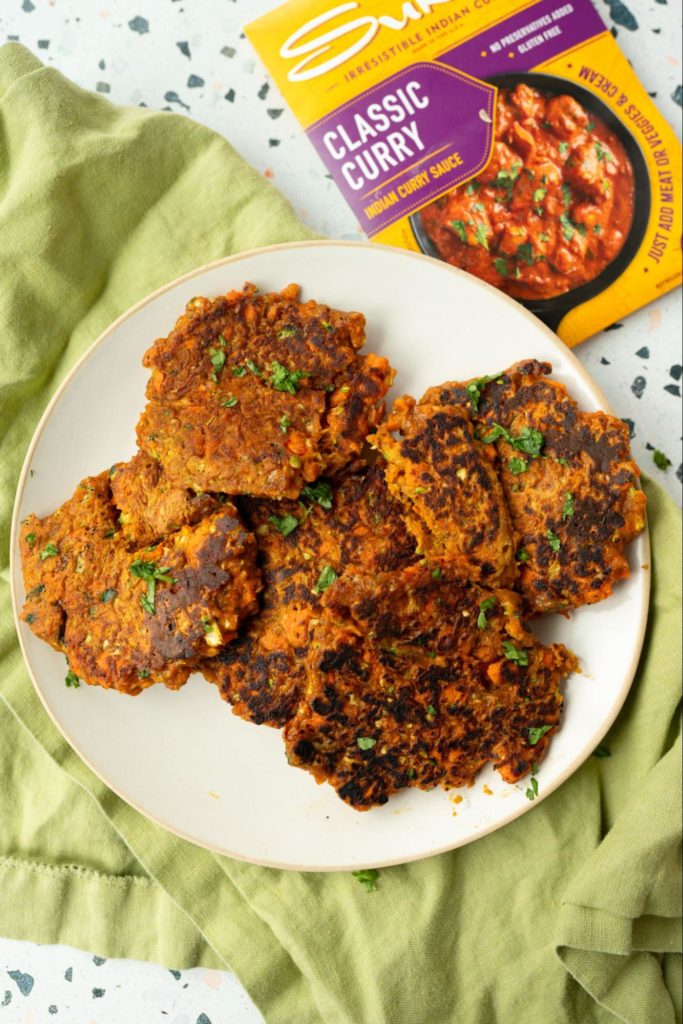 What Are Curry Vegetable Fritters?
Our Curry Vegetable Fritters are a delicious blend of classic fritters and the rich flavors of Indian curry. This dish is all about combining the familiar comfort of traditional fritters with the aromatic spices of Indian cuisine.
It's a balanced mix of finely minced vegetables, thoughtfully chosen spices, and our special curry sauce, all coming together in a flavorful batter.
The end result is a delightful contrast of textures, with a satisfying crunch and a curry-infused center. Sukhi's Curry Vegetable Fritters offers a unique taste experience that's sure to stand out.
Curry Vegetable Fritters
Ingredients
1

egg

1/2

cup

flour

1/2

pckg

Sukhi's Curry Sauce

2-3

large

carrots

1

zucchini

1

tbsp

garlic powder

2

tbsp

olive oil

basil or chives

for garnish
Instructions
Chop and place zucchini and carrots into a food processor. Blend until you have small bits. If you don't have a food processor, you can also shred by hand.

Remove from food processor and place veggies in a napkin. Squeeze out as much liquid from veggies as possible. Place squeezed veggies in a medium bowl.

Add egg, garlic powder, flour, and Sukhi's Classic Curry Sauce into a bowl with veggies. Mix until thick batter forms.

Heat the frying pan to medium-high heat. Add olive oil to a pan.

Add 2-inch dollops of batter and lightly press down to flatten into patty shape.

Fry on each side for about 1-2 min or until lightly browned. Continue until the batter is finished.

Remove from pan and place on a plate lined with paper towel.

Serve warm and garnish with basil or chives.