Baked Tofu Tikka: A Culinary Delight
We introduce a delightful and nutritious dish, Baked Tofu Tikka—a fusion of firm tofu and ripe mangoes mixed in Sukhi's signature Tikka Masala Sauce.
This recipe combines the hearty texture of tofu with the juicy sweetness of mangoes, all perfectly blended in the zest of lemon and creamy yogurt and spiced with our sauce. The result is a dish that brings a melody of sweet, tart, and spicy notes to your palate.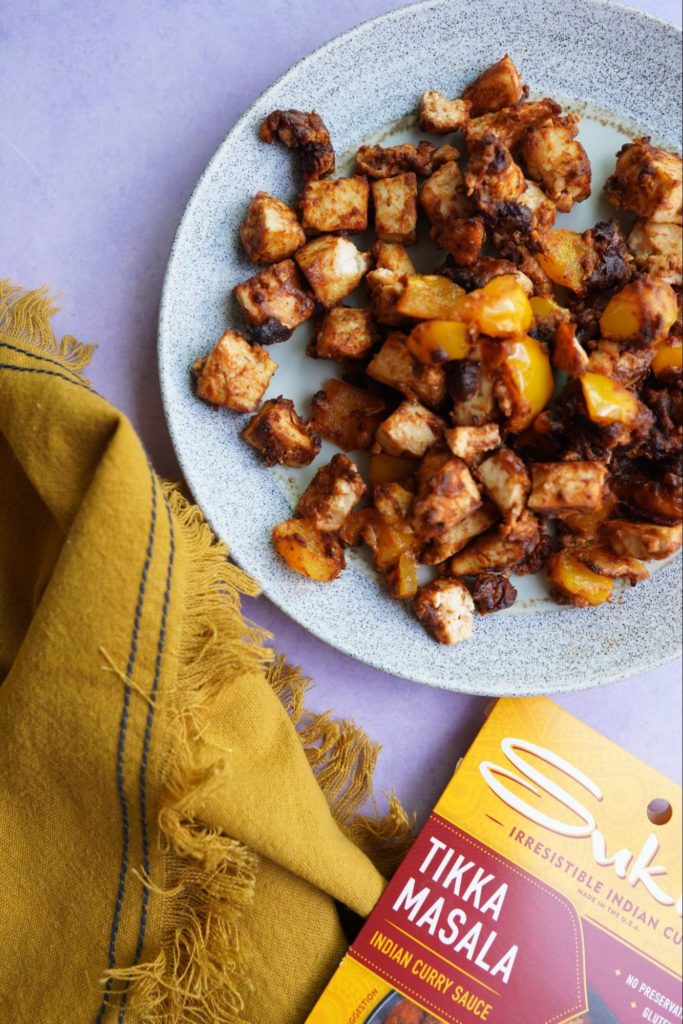 What is Baked Tofu Tikka?
Baked Tofu Tikka is an innovative culinary creation that marries the firm, protein-rich goodness of tofu with the sweet, tangy richness of ripe mangoes, all enveloped in a sumptuous blend of spices and flavors.
This dish is a vegetarian delight, taking inspiration from the classic Indian Tikka, traditionally made with chunks of marinated and grilled meat.
The essence of this dish lies in its balanced interplay of textures and flavors. The tofu provides a hearty, chewy base, while the mango brings a refreshing sweet and tartness, adding another layer of complexity to the dish.
The marination process, involving a concoction of creamy yogurt and zesty lemon, is pivotal in infusing the tofu and mango chunks with a depth of flavors and ensuring a succulent outcome.
Authenticity Meets Contemporary
This dish reflects the limitless possibilities within vegetarian cooking, demonstrating that nutritious can indeed be delicious. The dish is simple yet flavorful, making Indian cooking an accessible and enjoyable experience for everyone.
Baked Tofu Tikka
Ingredients
1

block

tofu

extra firm

1

mango

1

packagae

 Sukhi's Tikka Masala Sauce

1

lemon

juiced

1/2

cup

yogurt

1

pinch

salt

1

pinch

pepper

1/4

cup

flour
Instructions
Preheat the oven to 400 Fahrenheit.

Dice your block of tofu and mango into cube or bite-sized pieces.

Combine tofu and mango in a mixing bowl with the juice of 1 lemon, a pack of Sukhi's

Tikka Masala sauce, and 1/2 cup of yogurt

Stir thoroughly until the mango and tofu are evenly coated

Sprinkle 1/4 cup of flour on top of your mixture

Scoop your combined ingredients onto a medium baking sheet with aluminum foil

Ensure pieces are spread out to cook evenly

Cook at 400 Fahrenheit for 15 minutes. Halfway through, flip your tofu and mango to ensure both sides are evenly cooked

Set oven on high and broil for 2 minutes