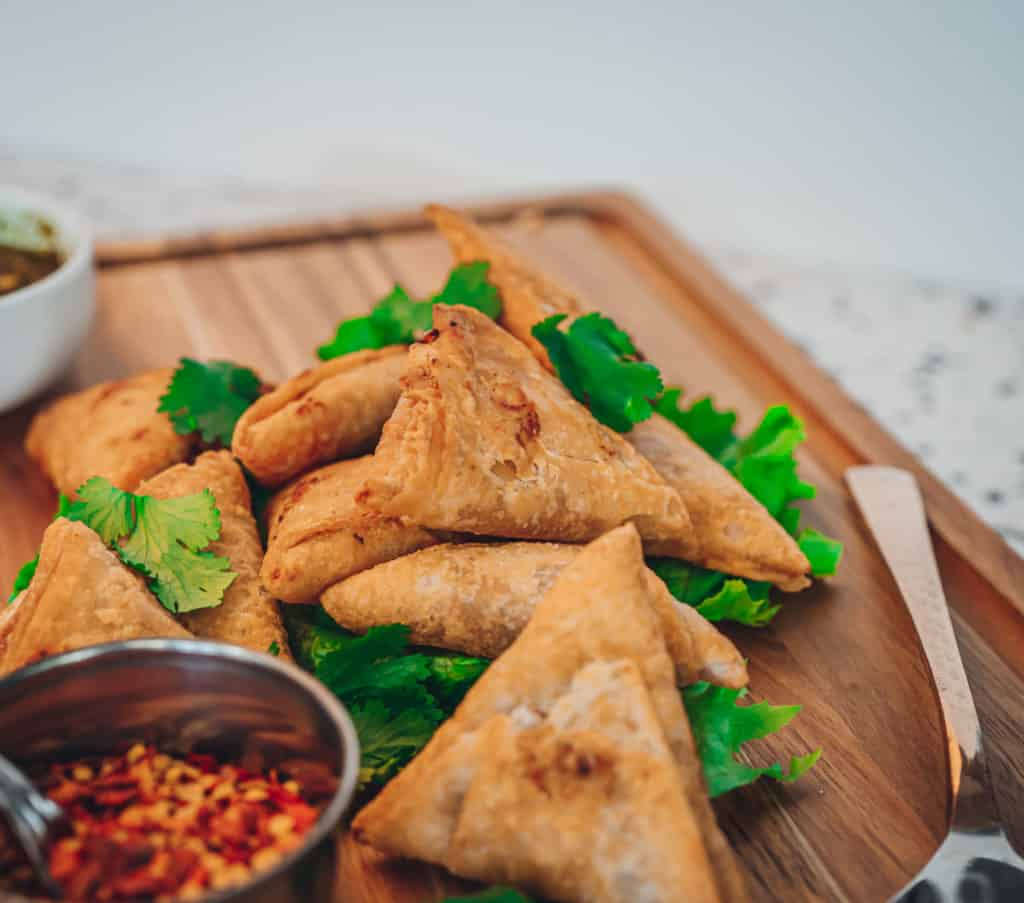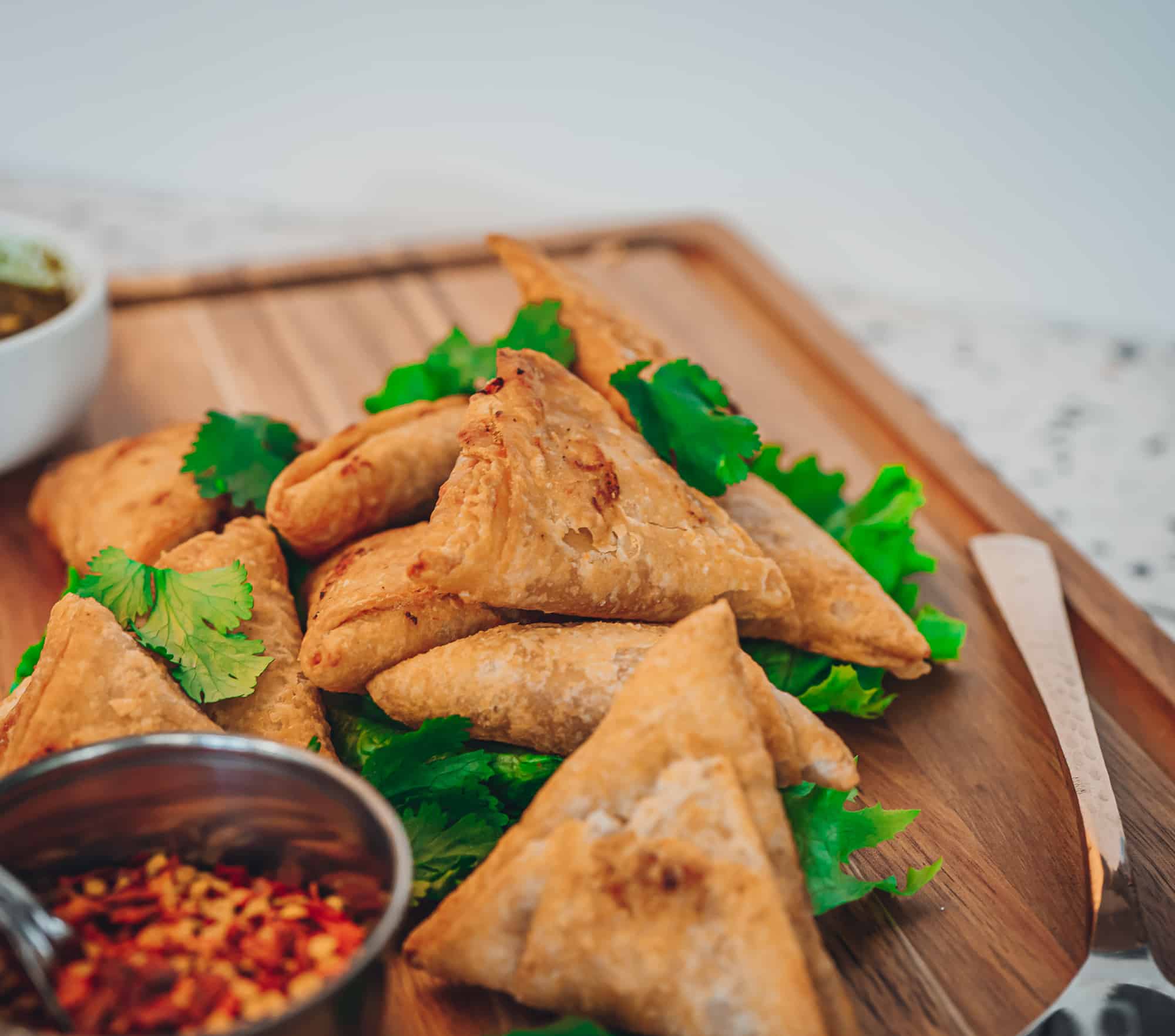 Samosas are a go-to appetizer when hosting afternoon tea, attending a get-together, or ordering at any Indian restaurant. If you're craving a delicious and savory pastry, turn to samosas.
Many cultures worldwide claim samosas as their own, but most of their popularity can be accredited to Indian cuisine. You've probably seen a cone-shaped Indian samosa and wondered what it's filled with. Well, samosas come in hundreds of varieties, so you'll never know at first glance, but upon first or second bites, you'll understand why so many indulge in these tasty pastries.
It's said that samosas were first crafted in the 10th century, but the pastry could date back even further. You can find samosas in South and Central Asia, the Middle East, East Africa, and other regions. Because of immigration, modernization, and cultural hybridization, samosas are now found in many forms around the world, allowing them to be enjoyed and cherished by everyone.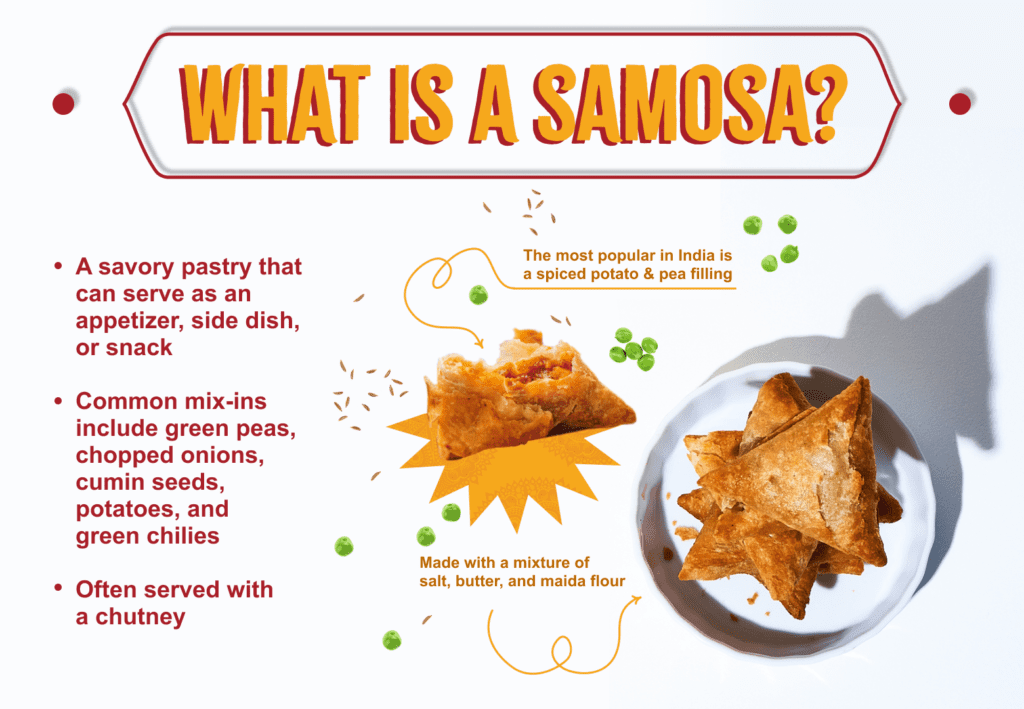 How Are Indian Samosas Made?
Samosas are simple yet flavor-packed treats. To make a samosa, you'll need dough and a tasty filling. Once assembled, samosas can be deep-fried or baked until golden brown and crispy.
A traditional samosa dough is made with a mixture of salt, butter, and maida flour (a white wheat flour comparable to all-purpose flour). The most popular filling in India is a spiced potato & pea filling, but you will see other variations like cauliflower, chickpeas, chicken or even minced lamb.
As you try more and more samosa recipes, you'll find that the possibilities are endless. Indian samosas aren't sweet, but if you want to try your hand at a sweet variation, nothing is stopping you.
If you want to try samosas without the hassle of making pastries and frying them, give some of Sukhi's a try. Sukhi's has both traditional and non-traditional fillings; helping you understand what fillings you like, how your dough's texture should feel, and what a delicious samosa really tastes like.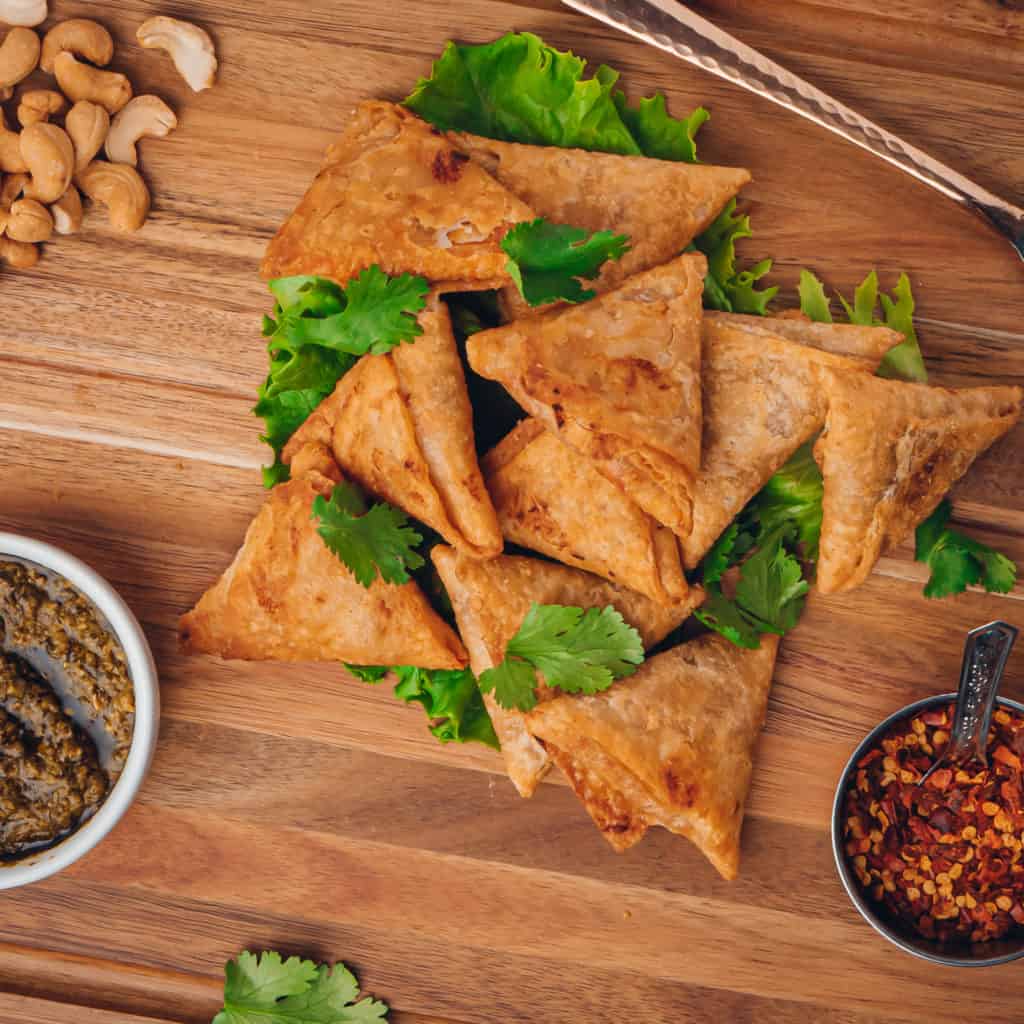 The Different Kinds of Samosas
Like most Indian dishes, samosas are packed with flavor and take careful craftsmanship to prepare. There are meat and vegetable samosas, but fillings can be made with many other ingredients.
Some common mix-ins you'll find in a samosa include green peas, chopped onions, cumin seeds, potatoes, and green chilies when you're looking for some spice. We'll walk you through some of Sukhi's samosas to give you a taste.
Potato Samosas
Potato samosas are one of the most popular varieties and with good reason. Chopped or mashed potato samosas can be a helpful side, appetizer, or snack. Bite past the crunchy outer layer of baked samosa dough and into warm and soft potatoes and peas.
Samosas are generally served with a chutney or dipping sauce. The most popular is a green coriander or mint chutney, which is tangy and gives a fresh herb taste. Another popular chutney is sweet and sour tamarind chutney.
Chicken Tikka Masala Samosas
This is exactly what it sounds like! Enjoy the popular flavors of Chicken Tikka Masala wrapped into delightfully crispy pastries. The first ingredient in Sukhi's chicken tikka masala samosas is chicken, of course. The second is Sukhi's creamy tomato curry sauce. If you're not looking for a full entree, these deep-fried, velvety samosas can be just the snack you were looking for.
Chickpea Samosas
These vegetarian samosas are a delicious way to get a bit of extra protein in. Sukhi's chickpea samosa filling is made with caramelized onions, garlic, tamarind, jalapenos, and other spices that bring freshness and heat to every bite.
Chickpea samosas are super creamy, making them the perfect side dish for a juicy roasted chicken or a tomato salad.
Mango Coconut Chicken Samosas
Sukhi's mango coconut chicken samosas are absolutely delicious. Think about a Hawaiian pizza or classic Vietnamese sandwich if you're hesitant about such refreshing ingredients paired with chicken. Sometimes tropical fruits or fresh vegetables are the perfect pairings to warm meats; in mango coconut chicken samosas, you'll find this rule to be true.
The Best Ways To Enjoy Samosas
Samosas can play the role of an appetizer, side dish, or snack; it's pretty much up to how and when you like to munch. Bottom line, you can enjoy a samosa or two or a whole plate full of piping hot ones whenever you'd like.
Have some samosas leftover from yesterday? Prepare yourself, samosa chaat. Samosa chaat is a popular street food dish where whole samosas or pieces of samosas are served with chickpea curry and other toppings. There's no particular samosa chaat recipe, it's somewhat of a medley of what ingredients you have available.
There's never a wrong time for samosas, and even if you make too many (if there is such a thing), someone's bound to eat them by the end of the day.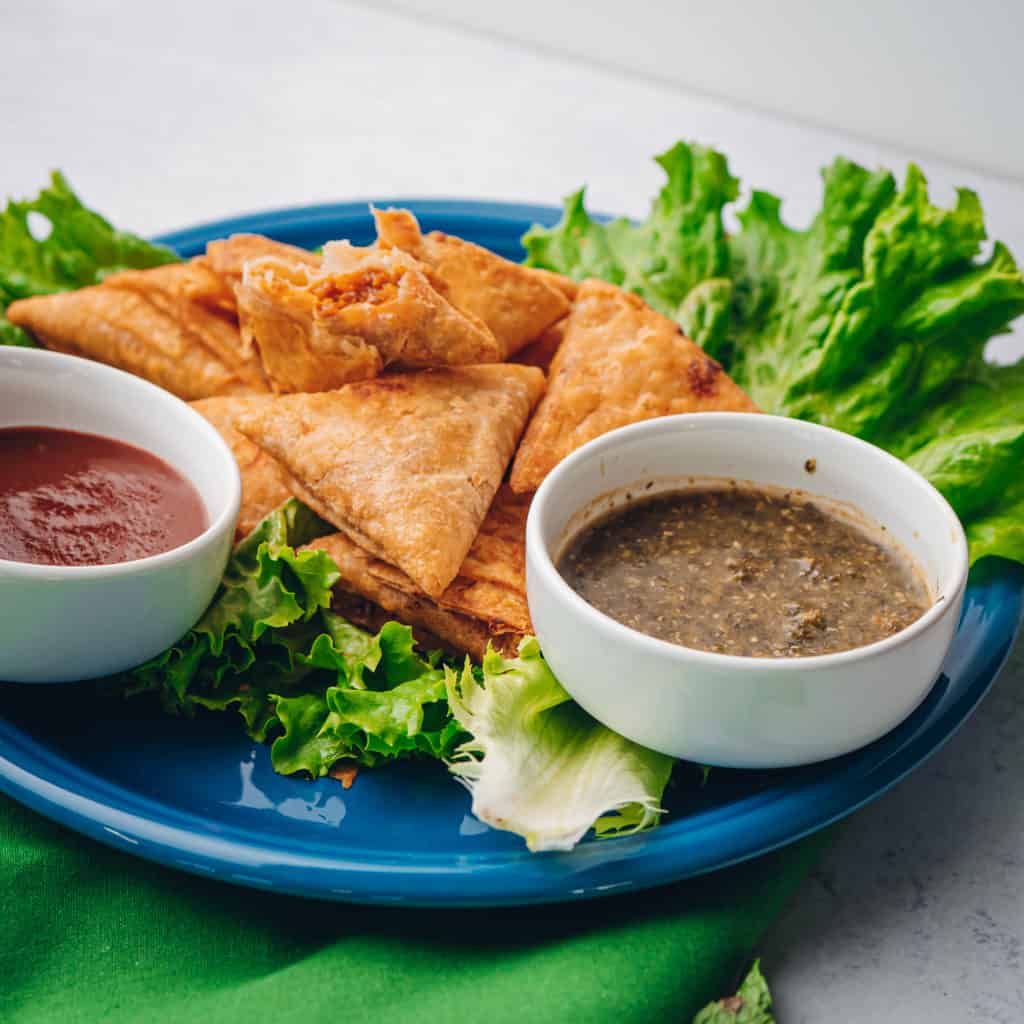 Pairings
As you're well aware by now, you can eat samosas with whatever you'd like or just wholly on their own. Not that samosas' flavors need anything additional, but many like to enjoy samosas with a side sauce or a sauce put into the samosa itself.
There's no special samosa sauce as their fillings differ so greatly; more often, you'll be served a chutney with your samosas. Chutneys can be used as a dipping sauce or be smeared right on top with a butter knife like jelly.
Chutneys are just as diverse as samosas and can be made with many different fruits and vegetables, making them the perfect condiment for Indian cuisine.
A popular and versatile chutney used with samosas is cilantro chutney. Sukhi's samosa recipes call for cilantro chutney because it adds moisture and a pleasant flavor of fresh herbs to the pastries. Want to cool down the heat of a chickpea samosa? Dip it in some cilantro chutney. Want to bring some sweetness to your potato samosa? Smear some mango chutney right on top of it.
Chutneys and samosas work hand in hand; you might say they're the perfect finger-food combination.
Add Samosas To Your Vocabulary
Knowing what a samosa is, is a great first step when diving into Indian cuisine; it'll get you through the appetizers at least.
Samosas are an excellent way to get a feel for some classic Indian flavors and spices without committing to an entire dish. Take about 15 minutes to pop some samosas in your oven and indulge in an authentic samosa recipe.
You'll never disappoint if you're the one responsible for bringing samosas to the party. These classic Indian pastries are a quick and easy crowd-pleaser no matter the event.
Samosas are crunchy, flavorful, balanced, and filling; everything you could hope for in a savory pastry.