Samosa Jalapeno Poppers: A Spicy Twist on a Classic Delight
Indulge your taste buds in a culinary fusion that marries the traditional flavors of our samosas with the fiery kick of jalapenos. Get ready to embark on a flavor-packed journey with our recipe for Cheesy Samosa Jalapeno Poppers.
This delightful snack offers a tantalizing combination of textures and tastes that will leave you craving more.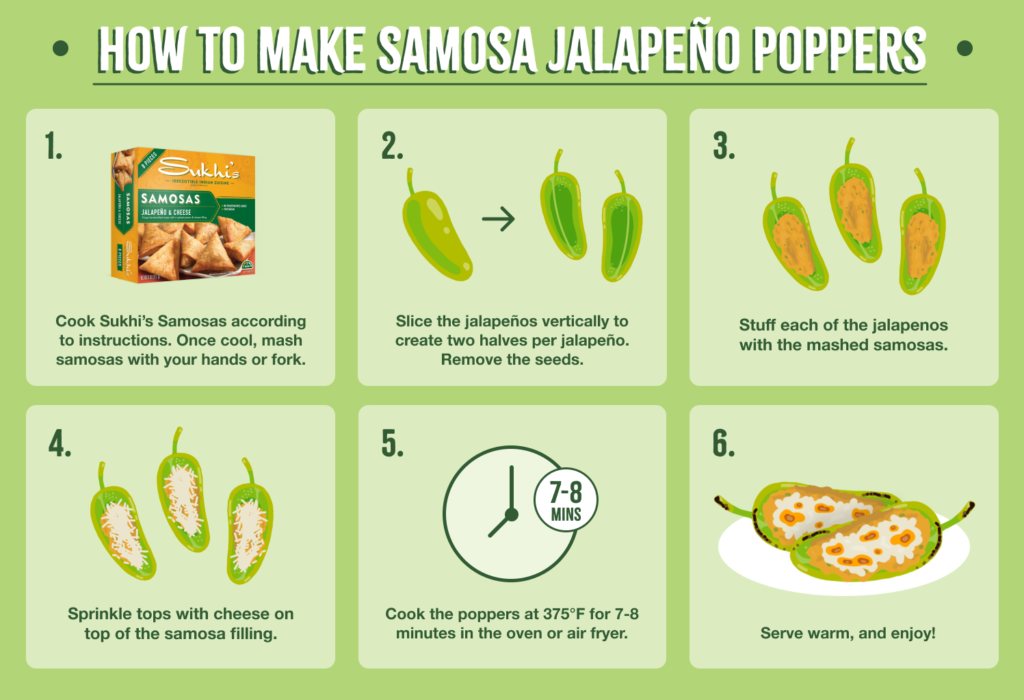 What Are Cheesy Samosa Jalapeno Poppers?
We all know samosas: triangular pastries filled with a flavorful mixture of spiced potatoes, meats, or vegetables. On the other hand, jalapeno poppers are a classic American appetizer featuring jalapeno peppers stuffed with creamy cheese. They are breaded and fried until golden and crispy.
This creative fusion combines the aromatic spices of samosas with the fiery kick of jalapenos; all encased in a cheesy embrace. The result: a taste explosion that harmoniously blends flavors. This recipe offers a rich medley of textures and tastes that will undoubtedly leave an impression.
Follow along to make your very own.
Samosa Jalapeno Poppers
Ingredients
4

Sukhi's Samosas

4-5

Jalapenos

1/2

cup

Cheddar or Mexican Cheese
Instructions
Cook Sukhi's Samosas according to instructions. Set aside and let cool. Once cool, mash samosas with your hands or fork into small pieces.

Slice the jalapenos vertically to create two halves per jalapeno.

Remove the seeds and the inside of the jalapeno. No need to remove the stem (leave it out when enjoying the poppers).

Stuff each of the jalapenos with the mashed samosas.

Sprinkle tops with cheese on top of the samosa filling.

Cook the poppers at 375F for 7-8 minutes in the oven or air fryer until the cheese is melted.