HOW TO MAKE PAV BHAJI: RECIPE AND BRIEF HISTORY
What does Indian cuisine have to do with fast food? We show you how to make a quick and delicious Pav Bhaji in this latest recipe guide!
What is Pav Bhaji?
If you didn't think Indian cuisine had sloppy Joe's, think again! Well, our spicy, vegetarian version of sloppy Joe's, anyway. Pav Bhaji is a vegetable mash (bhaji) cooked in a tomato-based sauce paired with a bread roll (pav) for a light, well-rounded meal.
Pav Bhaji is 100% vegetarian and represents the best of Indian street food — quick, easy, and incredibly delicious.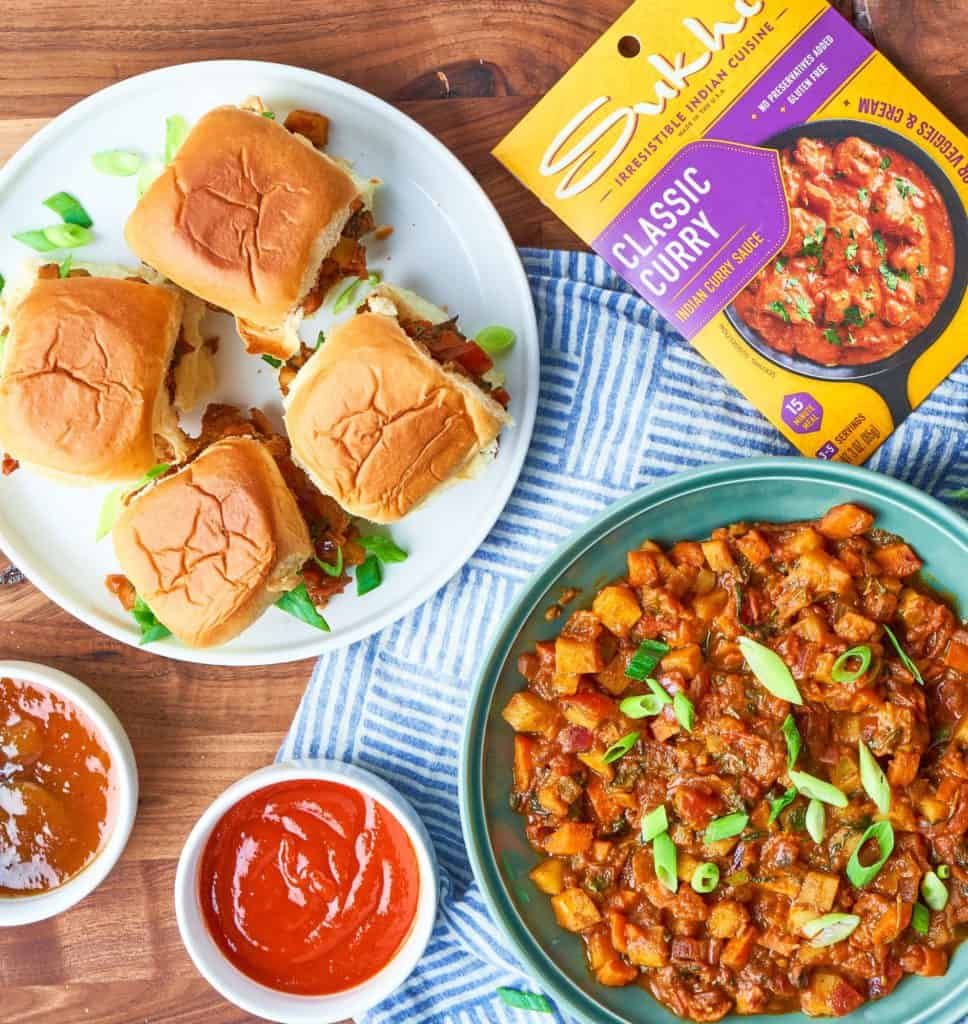 History of Pav Bhaji
According to its famous origin story, Pav Bhaji originated in Mumbai, India due to a select group of hungry textile mill workers in the 1850s. The laborers' lunch breaks were too short for a full, hearty meal, so the workers often only took a light lunch before returning to the arduous physical labor of the day.
They needed a quick and easy meal that gave them the proper fuel to power them through the remainder of the workday. A nearby vendor heard of the workers' needs and set off to address them by borrowing from disparate elements on his existing menu.
Soon enough, he created Pav Bhaji. The meal immediately became a staple among textile mill workers, providing a delicious and nutritious meal in a few easy bites. Since then, it's become a very popular street food in India and has generated many variations worldwide!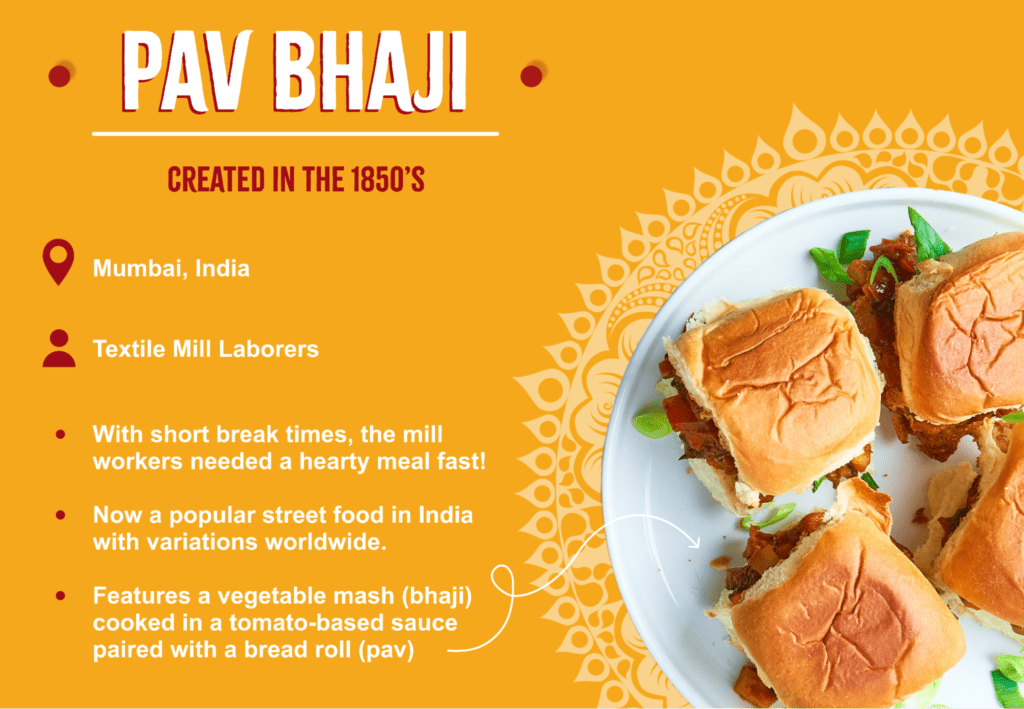 How Do You Eat Pav Bhaji?
There are a couple of ways to enjoy this dish once it's prepared. The first is what we mentioned earlier: slider style. If you're into eating sliders, this is the way to go! Spoon your filling into your bun and eat it like a sandwich.
Another method of eating Pav Bhaji is to dip pieces of your bun into the filling, scoop some up onto the bun, and enjoy. No spoons are required with this dipping method!
However, if you prefer this method, keep a napkin handy, as things could get a tad messy once the filling starts falling out of the bun.
HOW TO MAKE PAV BHAJI MASALA
The most common ingredients of this dish include potatoes, tomatoes, onions, butter, and chilies. But, what gives this dish its flavor is all in the spices used for the curry. 
If you're making a Pav Bhaji from scratch, you'll want to whip up your own Pav Bhaji Masala Powder, full of Indian spice classics like cloves, cinnamon, chilis, fennel seeds, and cardamom. You can also add other vegetables like cauliflower, peas, and carrots to make your Pav Bhaji even heartier.
Of course, sourcing all the spices and finding the proper balance between each flavor can mean a lot of time running errands and experimenting in the kitchen. If you don't feel like making your own Pav Bhaji masala powder, don't sweat it. 
That's why we're here.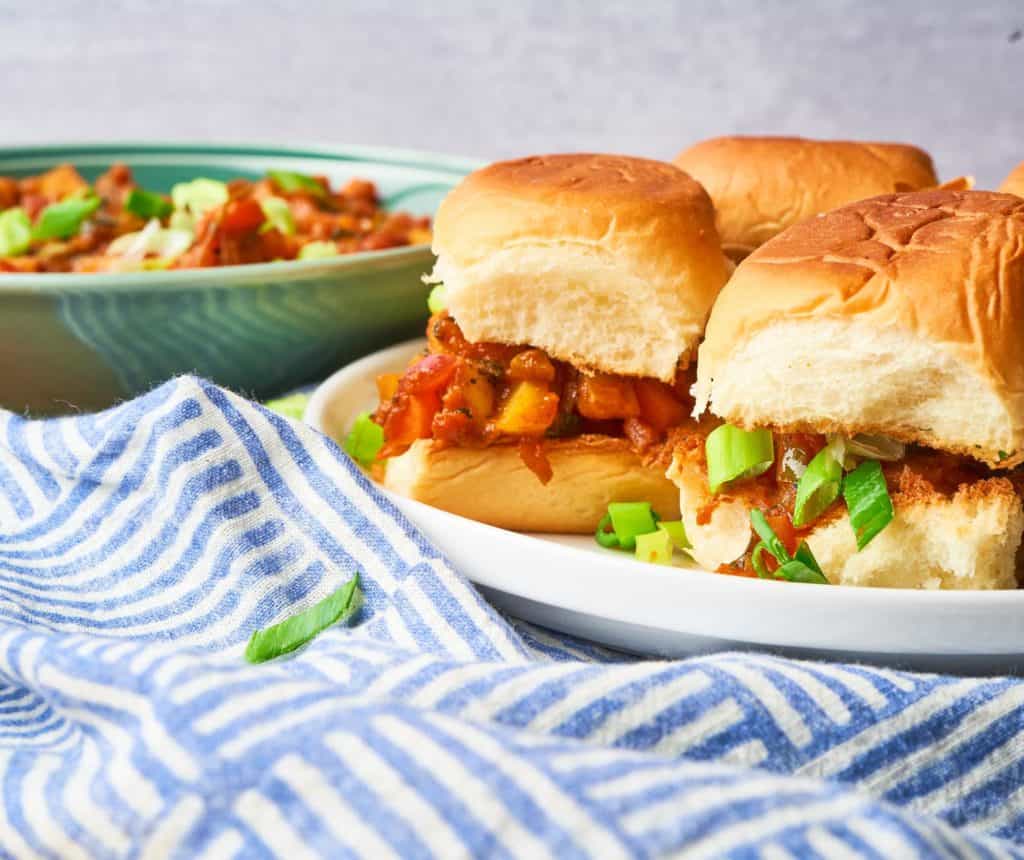 Sukhi's Pav Bhaji Recipe
To help build the rich sauce base, we love to use a package of Sukhi's Classic Curry Sauce, which includes tomato, garlic, and the perfect balance of Indian spices for that unmistakable curry flavor.
Pav Bhaji
Pav Bhaji is a vegetable curry (bhaji) cooked in a tomato-based sauce and paired with a bread roll (pav) for a well-rounded, light meal.
Ingredients
1/2

tbsp

oil

¾

cup

diced red onion

1

serrano chili

diced

3

oz.

1 package Sukhi's Classic Curry Indian Sauce

1

cup

diced tomato

1

cup

potato

diced and boiled

¾

cup

chopped cilantro

¾

carrots

diced and cooked

¼-½

cup

water

3

tbsp

unsalted butter

keep 1 tbsp aside (optional)

¼

tsp

salt

¼

tsp

lemon juice

8

King's Hawaiian Savory Butter Rolls

sliced in half
Instructions
In a medium to large pot, heat the oil.

Add the diced onion and serrano chili. Saute on medium heat, until the onion is soft and translucent.

Add Sukhi's Classic Curry and mix well.

Add tomatoes, potatoes, cilantro, carrots, and water. Reduce the mixture over 10-15 minutes or until the vegetables start to soften.

Use a hand masher or immersion blender to mash the ingredients in the pan. Leave it semi-chunky for best results.

Add butter, salt, and lemon juice, mix well, and remove from heat.

Add butter to a flat pan or skillet and lightly toast the buns.

To serve, add about 2 oz or ¼ cup filling to each bun.

Garnish each slider with fresh-cut cilantro or spring onions. Enjoy!
Notes
While butter is optional, we recommend adding a pat or two to get a taste of authentic Pav Bhaji flavor. 
What is your favorite way to eat Pav Bhaji? Let us know, and tag us in your pictures!
Learn More About Indian Street Classics With Sukhi's
Pav Bhaji is more than just a quick lunch — it's a meal perfectly designed to unite all the different taste buds throughout India and beyond.
From its textile factory origins to its modern fame, Pav Bhaji is a delicious, hearty meal that builds bridges between vegetarians, workers, and the entire Indian community.
And if you want to discover more simple, quick, and tasty dishes like Pav Bhaji, then we've got you covered.
Discover mouthwatering Indian cuisine by exploring Sukhi's entire product line, from our toasty samosas and street wraps to our irresistible entreés.
If you're interested in spending more time in the kitchen, read through our blog. Discover tasty vegetarian recipes like our Lemony Rice and Pea Salad and Samosa Chaat, or explore our ultimate guide to chaat (Indian street food).