What does Indian cuisine have to do with fast food? We show you how to make a quick and delicious Pav Bhaji in this latest recipe guide!
What is Pav Bhaji
If you didn't think Indian cuisine had fast food, think again! Well, our own healthy-ish version of fast food, anyway. Pav Bhaji is a vegetable curry (bhaji) cooked in a tomato-based sauce and paired with a bread roll (pav) for a well-rounded, light meal.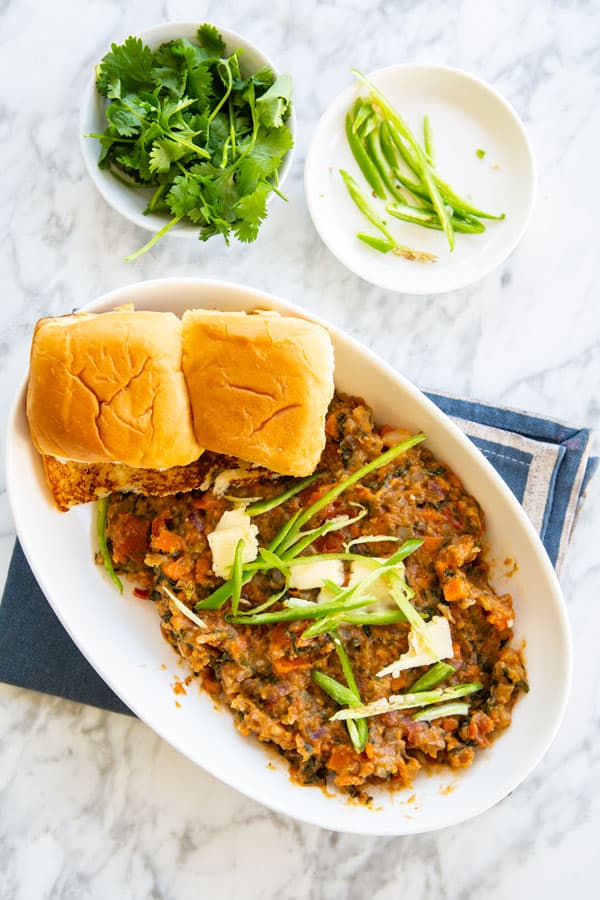 History of Pav Bhaji
Pav Bhaji originated in Mumbai and is tied to a story about some mighty hungry millworkers. According to the infamous story, heavy meals weren't ideal for these workers as the rest of the day was usually strenuous and tough. They didn't have time for a fussy meal, so they were looking for something quick to give them the proper fuel they needed to power through the rest of the workday. A vendor saw their needs and crafted Pav Bhaji, which quickly became a staple for delicious and nutritious food on the go. Since then, it's become a very popular street food in Indian and has tons of variations around the world!
How is Pav Bhaji Made
So far, we know that Pav Bhaji is a thick vegetable curry enjoyed with bread, but what's it made of?
The most common ingredients of this dish include potatoes, tomatoes, onions, butter, and chilies. But, what really gives this dish its flavor is all in the spices used for the curry. If you're making the real deal, you'll more than likely have to make your own Pav Bhaji Masala Powder.
First, you have to roast all of the spices before blending them together. This recipe calls for spices like cardamom, peppercorn, coriander seeds, fennel seeds, chilis, cinnamon, cloves, and amchur. You also have the option of buying the powder premade from the store, but you might have to look at a specialty store or online.
Once you have all of your ingredients, it's a matter of cooking them all up in a skillet! Start out by heating your oil in the skillet and sauteing your onions. Mix in your paste or sauce, if you have one, and then add in your veggies, making sure to mash them up. Cook until the mixture thickens and serve with rolls or bread.
How Do You Eat Pav Bhaji?
There are a couple of ways to enjoy this dish once you've got it all made up! The first is what we mentioned earlier: slider style. If you're into eating sliders, this is the way to go! Spoon your filling into your bun and eat it like a sandwich.
Another method of eating Pav Bhaji is to dip pieces of your bun into the filling and scoop some up onto the bun (like you would a spoon) and eat it that way. No spoons necessary with this dipping method!
However you go about eating it, be sure to keep a napkin handy as things could get a little messy if some of the filling falls out of the bun.

Sukhi's Pav Bhaji
Much like the traditional Pav Bhaji, Sukhi's Pav Bahji is veggie-based and served with rolls. The ingredients include vegetables like red onion, serrano chili, tomatoes, potatoes, and carrots. To help build the base of the rich sauce, we love to use a package of Sukhi's Korma Sauce, which includes cashew nuts and spices for that unmistakably delectable curry flavor. The rest of the ingredients for Pav Bhaji include water, oil, unsalted butter, salt, lemon juice, and King's Hawaiian Savory Butter Rolls. 
You start out by heating your oil in a skillet over medium heat and then add in your onion and serrano chili to saute. Add in Sukhi's Korma Sauce and mix it up really well. Then, add in your tomatoes, potatoes, cilantro, and carrots with water to reduce the sauce mixture. Next, take a hand masher and mash all ingredients up in the skillet. Add in your butter, salt, and lemon juice and mix well. After this, remove your skillet from heat. In another pan, heat up your remaining butter to toast the buns. Add roughly ¼ cup of the filling to each bun and enjoy!
Pav Bhaji
Pav Bhaji is a vegetable curry (bhaji) cooked in a tomato-based sauce and paired with a bread roll (pav) for a well-rounded, light meal.
Ingredients
1/2

T

oil

¾

cup

diced red onion

1

serrano chili

diced

3

oz.

( 1 PackagSukhi's Korma Paste

1

cup

diced tomato

1

cup

potato diced and boiled

¾

cup

chopped cilantro

¾

carrots diced and cooked

¼-½

cup

water

3

T

unsalted butter

keep 1 T aside (optional)

¼

t

salt

¼

t

lemon juice

8

King's Hawaiian Savory Butter Rolls

sliced in half
Instructions
Heat oil

Add onion, serrano chili sauté

Add korma paste mix well

Add tomatoes, potatoes, cilantro, and carrots, water- reduce mixture

Use a hand masher to mash ingredients in the pan

Add butter, salt, and lemon juice mix well, remove from heat.

Add butter to skillet and toast buns

Add about 2oz or ¼ cup filling to each bun
Notes
Butter is optional, however, to get the proper Pav Bhaji flavor, butter should be added. What is your favorite way to eat Pav Bhaji? Let us know and tag us in your pictures!