Learn all about Diwali, the festival of lights, and all of the delicious foods enjoyed by millions of people all over the world! We have the Best Diwali Recipes here for you.

Diwali, the festival of lights, is one of the most popular festivals in Indian culture. Millions of people attend fireworks, prayers, and feasts across the world every autumn, according to The Independent. 
This festival is celebrated by Hindus, Sikhs, and Jains as the triumph of light over darkness, which is a metaphor for good winning over evil. While it's celebrated a little differently across various regions, that one main idea is one that remains the same. 
Delicious Diwali Food:
During these iconic celebrations, and perhaps almost as famous as the lights themselves, the food shared is an important tradition between family and friends.
While the food eaten during Diwali varies, the most popular traditional foods include snacks, fasting food, and sweet treats! Overall, Diwali is best known for the sweets. Here are some ideas for you to celebrate Diwali at home!
Diwali Snacks:
Snacks eaten during Diwali and definitely vary across the world, but they can be savory or sweet! They're usually easy to eat, especially at festivals so they can be taken on the go. It's customary to eat either vegan or vegetarian during Diwali, so there are plenty of plant-based options to go around! 
These patties are vegan, gluten-free, soy-free, and an amazing savory option to celebrate Diwali. The ingredients are simple, so you'll be able to find them mostly anywhere!
If you're looking for a snack in the morning, this Oats Poha is the way to go! It's made with rice flakes, veggies, and spices and is very easy to put together.
These potato-stuffed pastries are best served hot and a perfect snack for Diwali. These take about 45 minutes to put together, so make sure you give yourself enough time when cooking. 
These crackers are a popular snack choice for Diwali because they're homemade, crunchy, and pair well with hummus or other veggie-based dips. 
It wouldn't be Diwali without Murukku! These deep-fried snacks are made with rice flour and dal flour. They make an amazing presentation for your table!
These veggie kababs are made with black chana and are so good, you won't even miss the fact that they're not meat! 
Nankhatai is basically a fancy way of saying Indian shortbread cookies! They only take 5 minutes to prep and 25 minutes to cook, making this an easy recipe for Diwali first-timers. 
These make amazing tea time snacks or anytime snacks during Diwali! They're crispy and fried and take hardly any time at all to prepare. 
Pop some of Sukhi's vegetarian Samosas in a bun to make the Samosa sandwich you never knew you needed! 
In keeping with the savory tradition, we introduce to you this savory cereal snack. Made with puffed quinoa, brown Rice Krispies, cashews, walnuts, cranberries, and raisins, this mix is sure to curb your hunger.
Diwali Faral/Vrat ka Khana (
fasting food)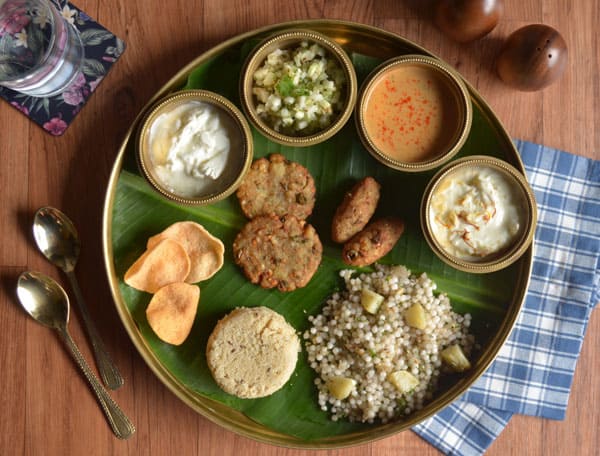 Due to tradition, it's common for those celebrating to fast for four to nine days prior to Diwali. Diwali Faral is a collection of snacks that are offered to guests who visit during Diwali or given to neighbors. If you're one of those fasting or following a restricted diet during this time, this is for you! These foods are all made without meat, eggs, onion, garlic, or grains. 
This recipe is made with water chestnuts and tempered with a red chili and curry leaf mix. Perfect for fasting! 
As the name suggests, this meal is made with boiled potatoes and cooked with curd, making it a quick and easy meal in under 30 minutes! 
Made with bottle gourd, many people eat this snack during fasting because of its approved ingredients. In this case, it's recommended that you avoid store-bought khoya since it might have preservatives or additives. 
This recipe is quick and made with sabudana, yogurt, crushed peanuts, and is spiced with green chilies.
This veggie dish is made from sweet potatoes, peanuts, sesame seeds, and dry coconut, making it a nutritious alternative for fasting.
Suran Khichdi is a hearty recipe, made up of grated elephant yam and peanuts. A great dish if you enjoy a nuttier flavor. 
This kabab is made from roots, believe it or not! Flavored with ginger, chilies, and coriander, this flavorful dish is amazing if you're fasting for Diwali. 
This version of Sabudana is made with peanuts for extra protein! It's also made with potatoes, chilies, and lemon juice.
A fresh take on potato salad, this dish has cucumber and peanuts and is served up with lemon dressing for a bright and spritzy flavoring. 
This dish is a little more advanced, but delicious and worth the extra bit of work! 
Diwali Sweets: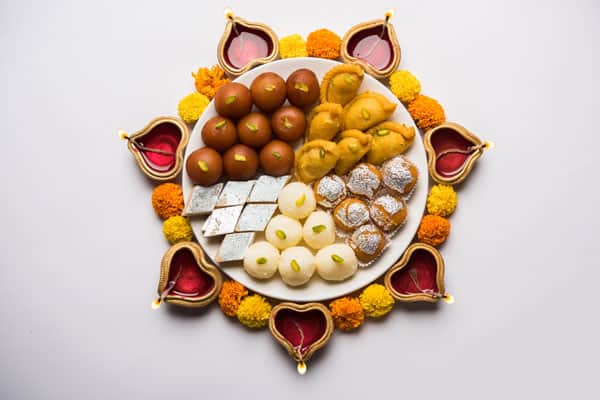 Sweets are a staple during Diwali! These treats are typically prepared ahead of time by the women of each household and are shared amongst family and friends. From fudge to ladoo, there is something on this list to cure every sweet tooth during Diwali! 
Rice pudding is a super popular dessert to serve during Diwali. This recipe makes it super easy, using an Instant Pot. 
This classic Indian treat is made with khoya, sugar, rose syrup, and cardamom powder so you can enjoy during the festival season. 
You'll likely find these diamond-shaped biscuits everywhere during Diwali! They make a great snack to munch on and is nice and crispy. 
These sweet treats are thin and smooth and made from cashews!
For this dessert, you'll need only a few ingredients like thickened milk, sugar, rose syrup/petals, and crushed pistachios. 
We know the words split chickpea and fudge don't sound like they go together, but we promise they do!
Malai Chum Chum
Malai Chum Chum is a standard treat for Diwali and has a texture that's similar to rasgullas and is wonderfully rich thanks to the malai and stuffing inside.
Coconut Ladoo, but instant! This recipe makes it super easy to make treats for the festival of lights. 
Indian milk fudge is a popular choice for sweets during Diwali and these ones are pretty and easy to make with only three ingredients!
Gulabi Kalakand Rose-Flavored Ricotta
You'll notice quite a few rose-flavored recipes, and it's for a good reason. This rose-flavored ricotta will have you wishing you didn't have to share with your neighbors!
If you're looking for some quick and easy alternatives to pick up from the grocery store, try one of our Diwali-approved treats: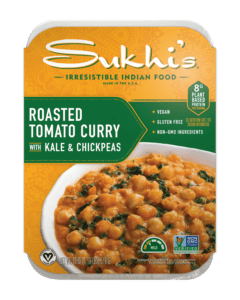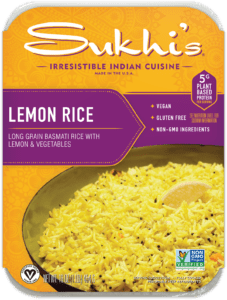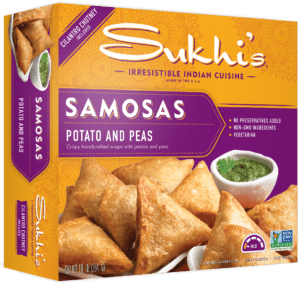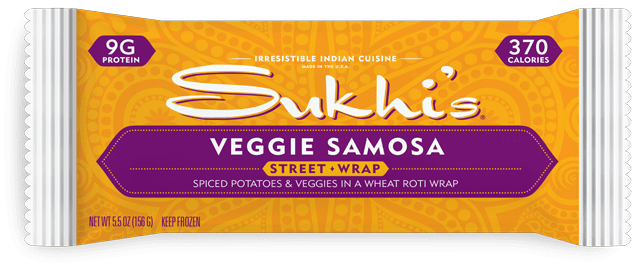 No matter how you celebrate Diwali, we wish you the best during this cheerful and bright holiday season! What are your go-to snacks during the festival of lights?