Wondering what to make this holiday season? We've collected the best Thanksgiving recipes for you!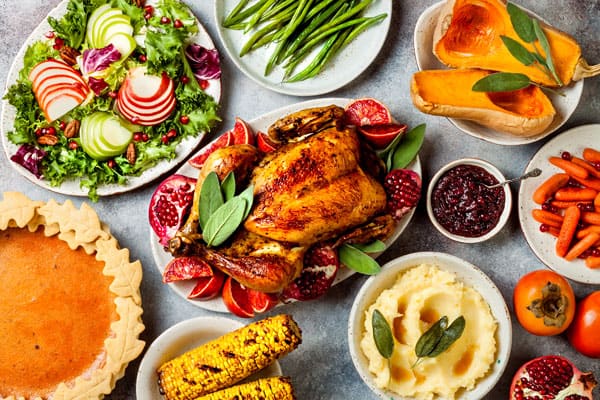 Throwing a Thanksgiving feast each year may seem like a daunting task. There are many things to consider, including which side dishes to serve, family traditions, table dressings, and which desserts to round off the meal. 
We've done the hard work for you and collected some of the best Thanksgiving recipes that you can make for your friends and family! We've rounded up some ideas for appetizers, turkey and dressings, casseroles, sides, and desserts. 
What is a traditional Thanksgiving dinner
Thanksgiving dinners may vary from household to household depending on family traditions, but for the most part, most dinners have similar components. 
Traditionally, a Thanksgiving meal is built out around the main dish, which is a turkey. Some families might opt for chicken or ham as a substitute, but the turkey is one of the symbols of Thanksgiving. Alongside the turkey, the traditional trimmings that are served usually include mashed potatoes with gravy, cranberry sauce, sweet potatoes or yams, stuffing, rolls, and green bean casserole. 
This looks different for every family, but the importance of the day is to share a meal with family and friends while being grateful for the life you live and the people in it. 
Appetizer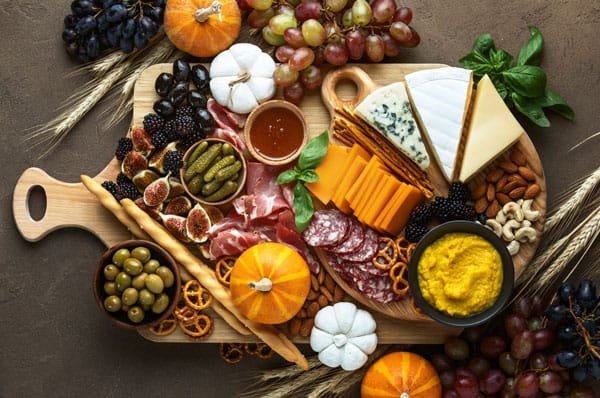 It's typical to start out Thanksgiving with some snacks to tie you over before the big meal! Of course, these are never heavy snacks because you'll always want to save room for the main event. Here are some recipes for the best Thanksgiving appetizers.
Turkey Recipes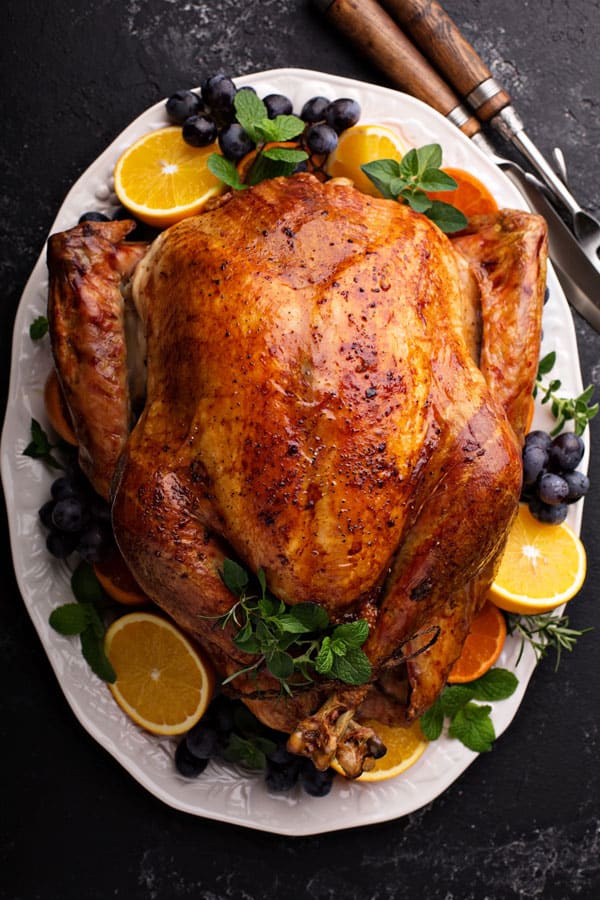 It's just not Thanksgiving without some sort of turkey! No matter how you prepare your bird, your guests will be thankful that you've put so much effort into their meal. Cooking a turkey doesn't have to be scary. In fact, it can be rather fun. Here are some turkey recipes to get you started.
Garlic Herb Butter Roasted Turkey is sure to please your dinner guests! Recipe by Cafe Delites.

Cut your cooking time in half by following this

Instant Pot Turkey

recipe by Soulfully Made. 

Put those leftovers to good use and make this

Leftover Thanksgiving Panini

from the Food Network.

Say goodbye to tradition with these delightful little

Turkey Bites

. Perfect for adults and kids alike! Recipe by Deanna's Daughter.

Roasted Turkey with Chocolate Sauce

might sound a bit out there, but trust us when we say don't knock it til you've tried it. Recipe by Levana's Whole Foods Kitchen.

This

Easy Homemade Turkey Soup

recipe is another fun way to enjoy your turkey for Thanksgiving. Recipe by The Endless Meal. 

If you're vegan, this one's for you!

Vegan Tofurkey with Mushroom Stuffing and Gravy

will conquer all of your Thanksgiving cravings. Recipe by Epicurious. 

This

Deep Fried Turkey

recipe is super flavorful and fun to make. Recipe by Oh So Delicioso.

This

Thanksgiving Roasted Turkey

has directions to cook it stuffed or unstuffed, depending on your preference. Recipe by The Spruce Eats. 

If traditional turkey isn't really your thing, this

Bacon Wrapped Turkey

is right up your alley! Recipe by Something New for Dinner.
Thanksgiving Casseroles
Casseroles are a staple side dish during Thanksgiving meals. They often consist of vegetables with some sort of flavorful twist. Here are some ideas of casseroles to bring to your Thanksgiving dinner.
Thanksgiving Sides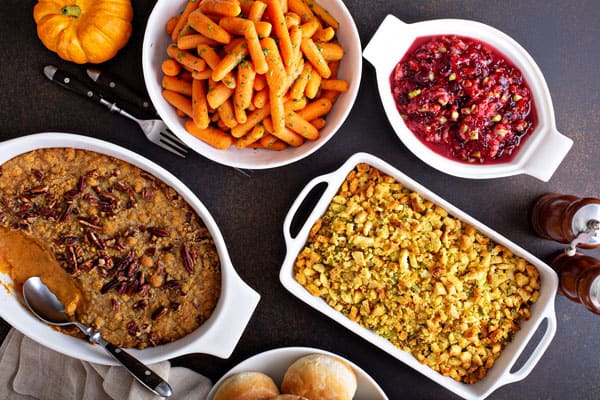 When preparing your Thanksgiving sides, there are so many options out there, it can be hard to choose! Here are some options to serve alongside your turkey.
These

Roasted Brussels Sprouts with Raisins and Pistachios

by Floating Kitchen are vegan and gluten-free!

This recipe for

Slow Cooker Cheesy Potatoes

only has 5 ingredients and cooks in a crockpot! Recipe by Sweet Phi.

If you're looking to add more grains to your meal, this

Whole Grain Classic Homemade Stuffing

is perfect! Recipe by A Couple Cooks. 

Mashed potatoes are a staple for a traditional Thanksgiving dinner. Make yours easily with this recipe for

Instant Pot Mashed Potatoes

by Skinnytaste!

This spin on Mac and Cheese is so fun and tasty!

Baked Butternut Squash Mac and Cheese

by Blue Bowl Recipes. 

Caramelize some onions for this

Cheesy Caramelized Onion Acorn

Squash

dish and you won't be disappointed! Recipe by The Almond Eater.

Throw some greens on your table with this

Arugula, Dried Cherry, and Wild Rice Salad

by Cookie and Kate. 

It's not Thanksgiving without gravy! Try this

Easy 5 Minute Gravy

by Crazy for Crust. 

You know what's better than baked potatoes? These

Twice Baked Sweet Potatoes

by Foodie Crush.

This Zesty Cranberry Sauce by What's Gaby Cooking is super easy to make and will dress up any turkey!
Thanksgiving Desserts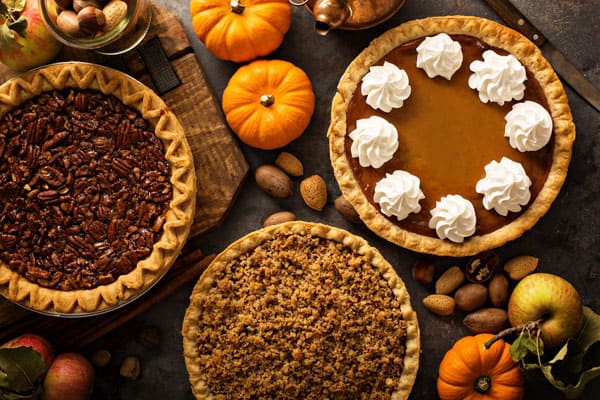 If you have room after your Thanksgiving dinner, you're going to want to round out the meal with some sweet treats! From cakes to pies, we've gathered some of the best dessert recipes for you to make this holiday season.
Kick-off the holiday season right by making this

Spiced Almond Pear Cake

by A Beautiful Plate! It's made with almond flour and isn't a complicated recipe by any means. 

This

Pecan Pie Cobbler

has caramel and brown sugar toasted pecans. Recipe by  Well Plated. 

A twist on pumpkin pie, this

Vegan Pumpkin Cheesecake with Chocolate Crust

by Emilie Eats is creamy and pairs great with coffee after dinner!

You can throw together this

Pumpkin Bread with Maple Glaze

in 20 minutes and prep your other foods while it's in the oven! Recipe by Butternut Bakery.

Serve up something unconventional like these

Cranberry Poppyseed Oatmeal Cookies

by Heartbeet Kitchen. 

This

Gluten-Free Pumpkin Cake with Salted Caramel Frosting

is brimming with fall spices and is so delicious that nobody will guess that it's gluten-free. Recipe by Snixy Kitchen.

If you're looking for something on the lighter side, try this

Healthy Seedy Pumpkin Bark

by Brewing Happiness. 

Another take on the pumpkin pie, try these

Pumpkin Cookies with Cream Cheese Frosting

. Recipe by The Faux Martha. 

If you like to spike your desserts with spirits, then this

Vegan Bourbon Pecan Pie

was made especially for you! Recipe by Vanilla and Bean. 

And if you're really not into all of those "fall flavors", try making this

Chocolate

Mousse

Pie with Peanut Butter Whip

by Oh Ladycakes.
No matter how you celebrate Thanksgiving, we hope you spend it with people you care about and while sharing food with one another. Don't forget to let us know which recipes were your favorite!