From Italy to India: Spring Risotto with Pulao Spice Mix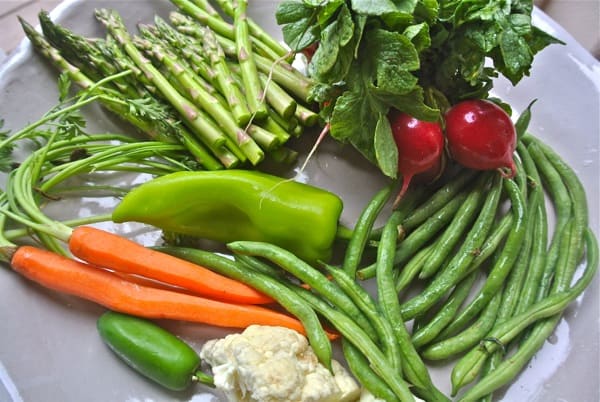 Sukhi's spice mixes aren't just for Indian cuisine. They add depth of flavor to everything from grilled vegetables and chicken dishes to soups and salads. Here, we've combined the Indian flavors with a a classic spring risotto featuring carrots, cauliflower, Anaheim chile, asparagus, and more.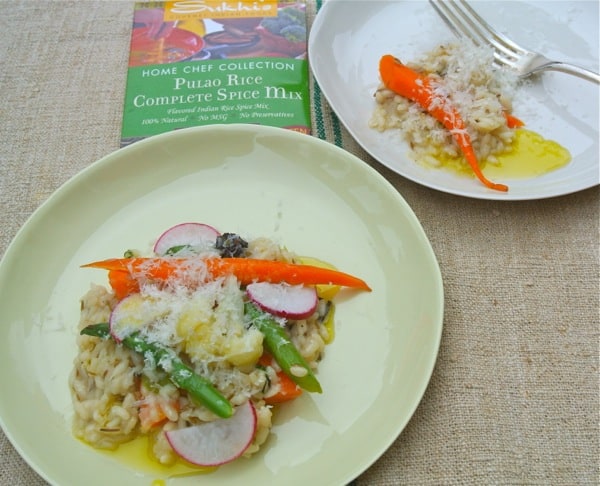 Spring Risotto with Pulao Spice Mix
Spices like cinnamon, clove, cardamom, and cumin, used in traditional Indian rice dishes pair well in this classic Italian risotto. For a vegan version, omit Parmigiano-Reggiano, and replace butter with extra-virgin olive oil or expeller pressed canola oil.
Ingredients
3

cups

vegetable or chicken broth

1

tablespoon

unsalted butter

1

tablespoon

olive oil

1

shallot

, chopped

1

cup

short grain rice

, such as Arborio

1/2

cup

dry white wine

1/2

teaspoon

fine grain sea salt

1/4

teaspoon

fresh ground black pepper

1

(.25 ounce) packet of Sukhi's Pulao Rice Complete Spice Mix

1

garlic clove

, chopped

1

pound

blanched* vegetables

, such as green peas, artichoke hearts, green beans, carrots, asparagus, cauliflower, etc.

Garnish: fresh chopped herbs such as mint

, parsley, or cilantro; sliced radishes; grated Parmigiano-Reggiano
Instructions
Heat broth in a pot and bring to a simmer.

Melt butter and oil together over medium-high heat in a large heavy-bottom pan; add shallot, stir, and let cook about 3 minutes. Add rice and garlic and stir, toasting and coating rice with butter and oil until rice becomes translucent, about 5 minutes. Add salt, pepper, and Pulao spice mix; stir.

Add wine and let evaporate, about 1 minute.

Add about 1 cup broth to rice, stirring constantly, until broth is absorbed by rice. Add another cup broth and repeat process, stirring constantly, until most of the broth is absorbed and rice is cooked but still al dente. Stir in vegetables. The risotto should be creamy and not too "tight" or dry. There should be some liquid in the bowl when you serve it.

Garnish, if desired, with fresh herbs, radishes, and a drizzle of oil or cheese.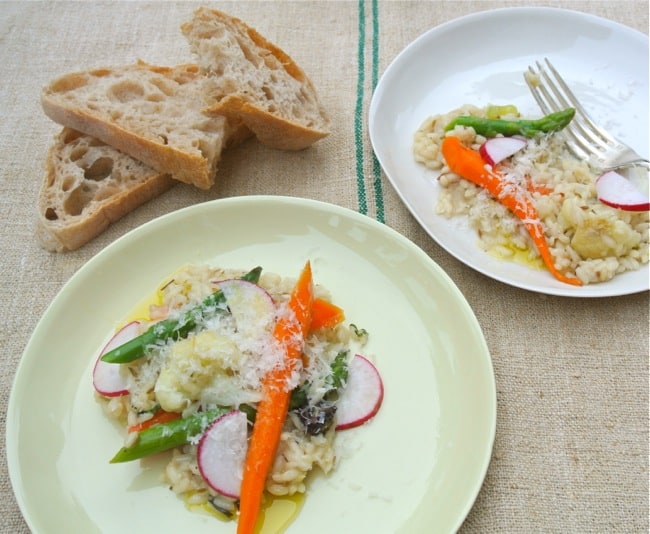 ALL PHOTOS: Copyright by Kim Sunée