Sukhi's Mango Chutney is a sweet, flavorful condiment made from mango, ginger and other spices. These holiday pinwheels bring the Indian flavors of mango chutney and make them festive with buttery pastries.
These holiday months, I find it's a good idea to always have a few sure-fire appetizers at the ready for drop-in guests.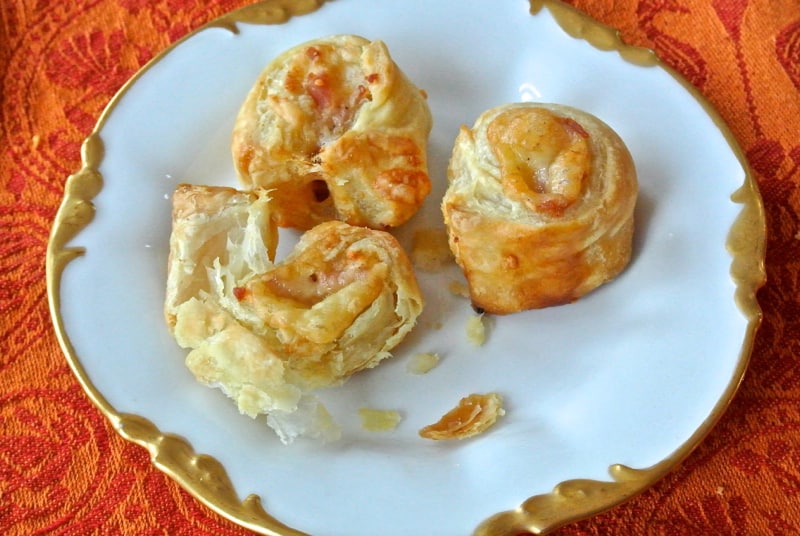 I love making pinwheels–they're easy to put together and make a big impression. Who doesn't love cheese and buttery, flaky pastry? Of course, adding a Sukhi's touch is easy by mixing in one of the delicious pickles or chutneys. Try different flavor combinations, like tomato and Gruyère cheese; carrot pickle and soft ricotta; mango chutney and roasted chicken…Just keep lots of the chutneys and pickles on hand as well as a few packages of puff pastry in the freezer and you'll be ready to go.
The recipe I am sharing today uses Sukhi's Mango Chutney. Mango Chutney is something I grew up eating. My aunt made this sweet chutney that always carried a punch with hints of ginger and a few other warming spices. Years later when I decided to share my favorite dishes with you, Mango Chutney had to make it to the list!
Basic Cheese and Mango Chutney Pinwheel
Ingredients
1

sheet

frozen puff pastry

(half of 17.3 ounce package), thawed

3/4

cup

finely grated Gruyère cheese

2-3

tbsp

Sukhi's Mango Chutney

2

tbsp

chopped fresh cilantro

1

egg, beaten to blend
Instructions
Place pastry sheet on a lightly floured, clean work surface. Cut in half forming two rectangles.

Brush half of mango chutney on one side of the rectangle, leaving 1/2-inch border along one side; top chutney with half of cheese and cilantro.

Brush plain border with egg glaze. Starting at border opposite the glazed border, roll the pastry lengthwise like a jellyroll, pressing gently on egg glaze to seal the border.

Place seal side down and wrap tightly in plastic wrap. Repeat with remaining pastry sheet and refrigerate for at least 1 hour. CAN BE MADE 2 DAYS AHEAD TO THIS POINT.

When ready to bake, preheat oven to 400°. Line two baking sheets with parchment paper. Cut logs crosswise into 1/2-inch rounds and place evenly, about 1 inch apart on the baking sheets. Bake until pastries are golden brown and puffed, about 16 to 18 minutes. Let cool slightly and serve.