How I Cook with Natalie Kelley
Each month we profile a food enthusiast—from a famous food blogger juggling daily life hurdles while maintaining a glorious Instagram profile to a dedicated parent who is constantly challenged to keep everyone at home well fed and happy. What's common though? These are all real stories of everyday heroes—stories of people like you. This month we got talking to a very inspiring Natalie. Let's meet her.
Natalie Kelley: The Brains Behind the Popular Food Blog 'Blonde Gone Clean' 
"I started 'Blonde Gone Clean' a little over three years ago after my freshman year of college. It began as a fun hobby to showcase my new passion for all things health and wellness. However after I ran my first half marathon, things changed.  The blog was now much more than a hobby, and ever since we have journeyed together. As my health took various twists and turns, so did the blog.
I was diagnosed with ulcerative colitis, an autoimmune disease in August 2017, and since then I have dedicated much of my time to speaking out about the disease and inspiring others with autoimmune diseases to find hope and still live out their healthiest and happiest lives. When I'm not blogging and testing paleo recipes, I'm a full-time personal trainer at the largest health club in the country where I get to inspire and change people's lives in person."
Current gig: I'm a full-time personal trainer and a part-time blogger (and who knows what the near future holds!).
The city I call home: Kirkland, WA
Adjective that best describes you: Bubbly
Three quick meals you swear by:
Veggie and egg scrambles,
Loaded smoothies
Giant salads with meal-prepped meats and veggies
Can't run my kitchen without:
Air fryer
Zoodler
Vitamix
Current food obsession: Roasted delicate squash with cinnamon sprinkled on top! I just can't get enough. I love putting it on top of salads for a little sweetness, cutting it up and adding it as a topping for my toast or cauliflower 'oatmeal', or even dipping it in nut butter.
The cooking technique you can't do without: Roasting! Believe it or not, I roast 90% of my veggies because that works best for me. On Sundays I prep about 4-5 giant baking sheets (call me crazy)!
A balanced and healthy diet to you is:
One that works best for YOU. A diet that nourishes your body but also your mind. One that makes you feel good and energetic but also lets you enjoy treats and honor your cravings. Eating is such an individual choice, and I think it's so important to tune in to your own body and find what way of eating makes you feel the healthiest and happiest.
What motivated you to make the switch, go clean?
I had always been a pretty healthy eater growing up, but once I started uncovering all my food intolerances in college, it made me realize something. Although my diet was healthy, it wasn't necessarily healthy for 'ME'. I then started cutting out foods that were hurting my body and incorporating new foods (like meat) to help me feel my best.
After getting diagnosed with ulcerative colitis, I have changed my diet even further to be even more anti-inflammatory and it's been the biggest help in my health journey. Eating the way I do keeps me the happiest and helps me manage my disease (along with medication)!
You emphasize 'fitness' through your work, your fitness mantra:
When it comes to fitness, my mantra is "push yourself, but also know when to rest." Not really a catchy mantra, but I swear by it. I love pushing myself hard in the gym, and on runs, and I love that feeling of trying new things and being really really tired/sore from it. But I've also learned to tune in and listen to my body and know when to pass on the tough workout and rest instead. It's a balancing act!
What breakfast, lunch and dinner look like for you:
Breakfast is typically paleo cauliflower rice 'oatmeal' with lots of yummy toppings, a thick chocolate banana smoothie (with sneaky veggies in it) or paleo toast with almond butter and banana.
Lunch is typically a big bowl full of roasted veggies, greens, baked chicken or turkey and some healthy fat (avocado, tahini dressing, etc.).
Dinner is always all over the board! Homemade soups, more meat and roasted veggies, stuffed squash… it changes daily!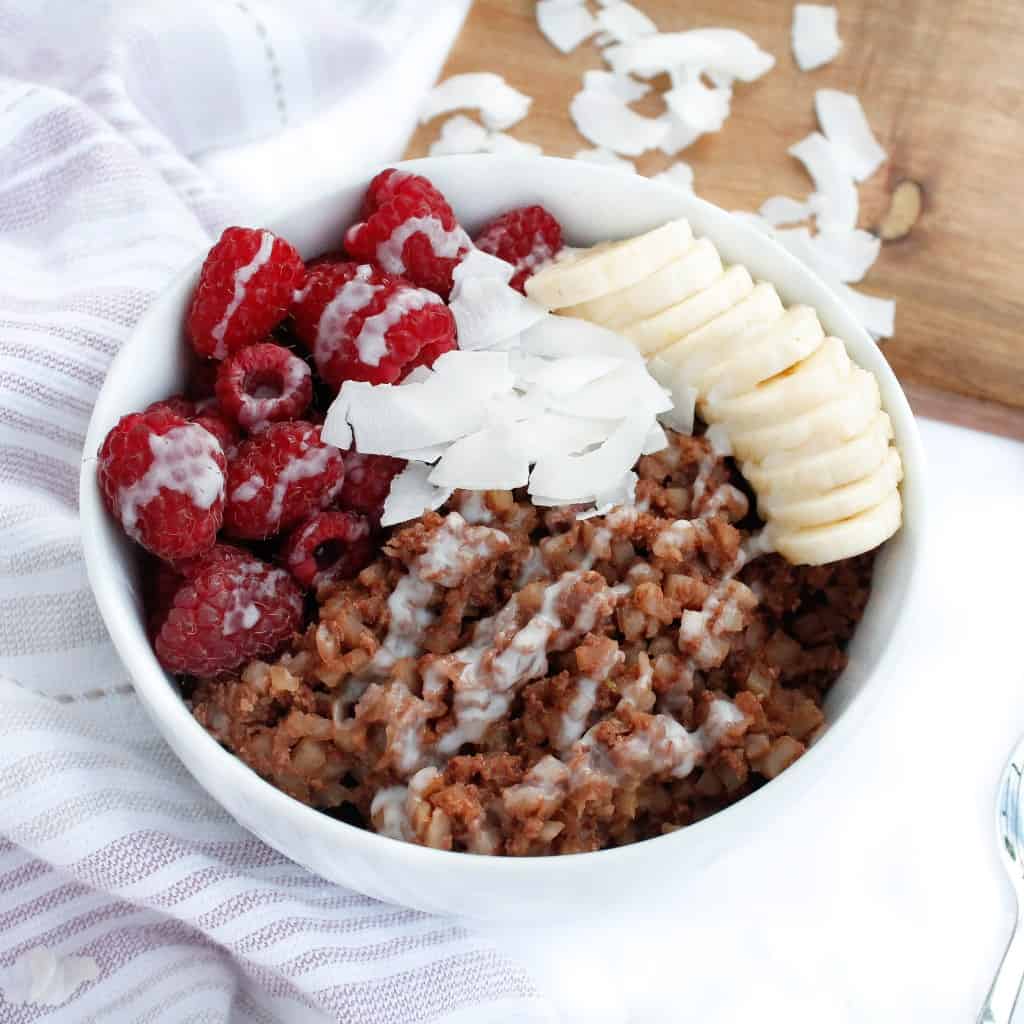 You work with a lot of paleo recipes…what has paleo diet done for you?
Being (mostly) paleo (more specifically I try to stick to the Specific Carbohydrate Diet) has really helped me transform. It makes me feel great even when living with an autoimmune disease. Because the paleo diet cuts out a lot of inflammatory foods, it helps my digestion and keeps inflammation low in my digestive tract. It also keeps me energized!
Your favorite paleo recipe:
My paleo fig newton bread! It's my absolute favorite.
Time hack:
Get on a good sleep schedule. I consistently go to bed at around 9:30 pm and wake up around 5 or 5:30 am because I know that mornings are my most productive time of the day. I don't work until 12:30 pm each day but I still wake up early in order to work on the blog and other independent work that I indulge in. Also knowing what YOUR most productive time of the day is, is super helpful! Take advantage of that time.
Top 3 Instagram accounts to follow: